This interview is part of our #LoveWhereILive campaign and of our series "#ProgressiveLocalStories", aimed at raising awareness on the many positive initiatives implemented by progressive cities and regions in Europe. Cities and regions have become laboratories for innovative solutions and, with this series, we want to discover how progressive mayors, councillors and presidents of regions put in place policies to promote and protect LGBTIQ rights.
Świdnica is an example when it comes to promoting and protecting LGBTIQ rights. As a progressive leader, what are your ideas on LGBTIQ rights in your local area and in Europe today?
LGBTIQ rights are human rights and it is obvious for me and many other mayors in Poland that LGBT+ people should feel at home in their cities – regardless of the size of the city.
Unfortunately, as you know, members of the Polish government present rather homophobic ideas and views explicitly to the public and in many official statements and documents. For example, the minister of education is famous for such opinions and it is especially troubling because many young LGBT+ people do not feel they are being supported by the government. This is why we try to counteract as mayors and representatives of local authorities in many Polish cities.
We decided to establish a new body within the Association of Polish Cities (ZMP) in 2020 – the Committee on Human Rights and Equality, which is very active and tries to do as much as possible in the current difficult political circumstances in our country.
Not only Poland, but other European states also have problems when it comes to LGBT+ rights. Even inside the EU we can see it – in Hungary, for instance. That is why we should work together closely with the European institutions and organisations to show our unity in protecting LGBT+ rights.
Which concrete actions have you put in place to make your city a place in which the rights of LGBTIQ people are fully respected and promoted?
The Committee on Human Rights and Equality of the Association of Polish Cities launched an LGBT+ campaign on 17 May – International Day Against Homophobia and Transphobia. Under the motto "I am your ally", the outdoor and social media campaign showed our support to the young people of LGBT+ community – symbolically we wanted to show where we stand so they can feel our presence, tolerance, help and acceptance. This is a serious issue especially in Poland, as surveys and statistics show that LGBT+ youth do not feel secure and safe in their families and at school.
Some cities like Świdnica, Krakow, Wrocław and others support equality and LGBT+ rights through new institutions associated with mayor's office – such as representatives or local councils/committees. Such a committee has existed in Świdnica since 2021.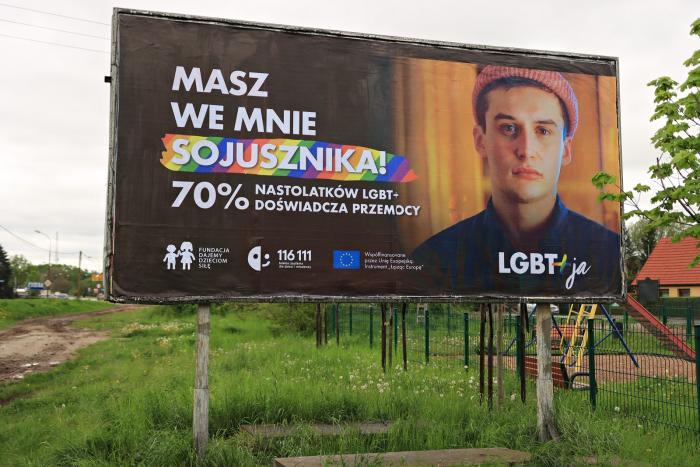 The European Commission has proposed its first ever LGBTIQ strategy and the European Parliament recently declared the EU as an LGBTIQ Freedom Zone. How can the European Union further contribute to advancing equality for LGBTIQ people and why is this important to your city?
It is very important for us in Poland, in many cities. As mayors, we try to do as much as possible to support the LGBT+ community but it can be quite difficult in the current political environment.
European institutions could contribute to advancing equality for LGBT+ people in Poland. I hope that EU law will be strengthened in the area of equality and EU countries will be obliged to comply with this law. Support of all kinds is important to us. On the one hand, we need institutional help and adequate legal measures and procedures; on the other hand, symbolic actions such as European Parliament resolutions, and statements on the topic by commissioners and high representatives are also needed.
***
Photo credits: City of Świdnica