This interview is part of our #LoveWhereILive campaign and of our series "#ProgressiveLocalStories", aimed at raising awareness on the many positive initiatives implemented by progressive cities and regions in Europe but also at highlighting the barriers that some progressive regional and local authorities are encountering in the attempt of making their city and region a more inclusive and safe place for all.
Manuela Bora, you are regional councillor of Marche (Italy) the Democratic Party. Last year you submitted a motion for the Marche region to join the #LoveWhereILive campaign, which was rejected by the regional council, led by a right-wing coalition. As a progressive political leader, what are your thoughts on LGBTIQ rights protection in your region and in Europe?
The protection of LGBTIQ rights is a topic totally absent from the regional political agenda, due to a conscious and deliberate choice that stems from an openly homophobic, retrograde and intolerant political-cultural stance of the regional administrators currently governing the region. On June 18, Marche Pride 2022 was held in Pesaro, and the Marche Regional Council even refused to grant sponsorship because it considers the Pride organising committee to be in partnership with a political party. This decision is totally unfounded from a technical point of view, as it is openly contrary to the spirit of the initiative and the letter of the regulations for granting patronage, as well as shameful from a moral point of view. An absurd decision, in contradiction not only with the history of previous concessions (in 2019 the regional government led by President Ceriscioli, of which I was a part, sponsored the 2019 Marche Pride in Ancona), but also with the decisions taken by other regional councils in Italy, whether left-wing (I am thinking of Lazio) or right-wing (I am thinking of Lombardy). Marche region is today, unfortunately, one of the most homophobic regions in Europe, and the policies implemented by this regional government are an insult to the European LGBTIQ strategy. In 2021, not only the request to join the "#LoveWhereILive" campaign was, as was mentioned before, rejected, but the majority also managed to vote against an amendment to the Triennial Tourism Plan presented by the Democratic Party that proposed to enhance LGBT+-owned and LGBT+-friendly tourism in our Region. In short, we have elements in abundant numbers to affirm that, while Europe is running faster and faster in the direction of a society of rights, inclusive, open, plural, Marche region is going in the opposite direction, wrapping itself in a worrying involution toward a model of society more like that of 100 years ago than that of today.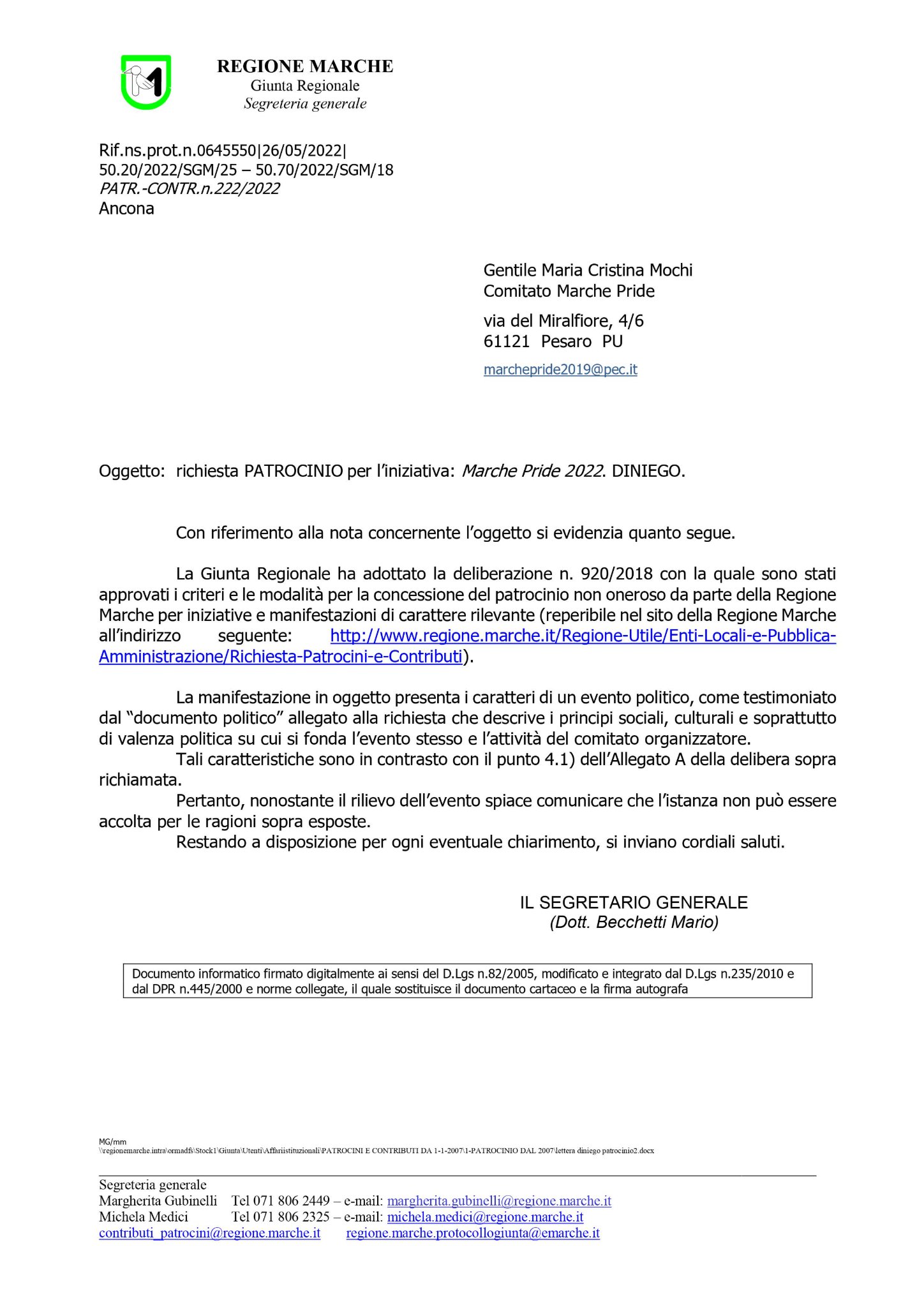 What practical steps should be taken to make your region an area where LGBTIQ rights are fully respected and promoted?
It would be enough to make ownership of the indications that come from the European Union and to take example from other countries and regions of Europe, which have already mapped out a path that it would be enough simply to follow, without inventing improbable returns to patriarchy and intolerance toward forms of love that do not fit perfectly into heterosexuality. It would be enough to dialogue with the meritorious associations that make concrete efforts every day to promote rights. It would be enough to positively welcome and follow as an institutional duty the directives of the central state. For example, I think that the idea conveyed by the Circular of the Ministry of Education on the occasion of the World Day Against Homobitransphobia last May 17, that is, to discuss at school, in the classroom, with students about the discrimination that the LGBTIQ community is still forced to suffer, was an excellent practical measure of awareness and education. Breaking down stereotypes, long and complex cultural and pedagogical work play a key role in this battle. Marche Regional Councillor for Education Giorgia Latini (Lega), instead of urging all teachers to address these issues in the classroom, of appropriately celebrating the World Day Against Homophobia, Transphobia and Biphobia by opening pathways for reflection, for deepening of inclusion, found no better way to rail against the (non-existent) gender theory, interpreting the Circular as a product of the phantom "gender", while it was only a matter of reminding everyone that homophobia, lesbophobia, transphobia are not opinions, but discrimination. In this regard, let me also remind you that a desired and important practical measure is the approval of the "Zan Law" (DDL Zan in Italian) as soon as possible: it is no longer tolerable to see our country in 33rd place among the 47 Council of Europe states considered in Ilga-Europe's Rainbow Map, considered among those that "do not have a positive reputation in legislation and policies on human rights of LGBT+ people".
Last year, the European Commission proposed its first LGBTIQ strategy and the European Parliament declared the EU an LGBTIQ freedom zone. How can the EU further contribute to the promotion of LGBTIQ equality and why is it important for your region?
In 2020 the Union rightly intervened harshly with those regions and municipalities in some European states, I am thinking for example of Poland, that practices intolerance and discrimination against the LGBTIQ community by self-declaring as "LGBT ideology free zones" (a declaration that, moreover, has no value whatsoever) by suspending the granting of structural funds. On questions of values, on the quality of democracy, on respect for all and everyone, on rights, there can be no backtracking at the European level.
This act and the important vote of the European Parliament on December 18 2018, through which a heavy condemnation was issued for all those Polish entities that had proclaimed themselves "LGBT ideology-free zones" must serve as a warning for the Marche region as well.
The European Union knows how to promote and foster the growth of a society that is more just and respectful of all inclinations and sensitivities, but it also knows how to punish those who place themselves outside the value perimeter defined in the Charter of Fundamental Rights of the European Union, which explicitly prohibits, in Article 21, any form of discrimination based on sexual orientation.
Those who cross this red line must be aware that they are committing a very serious and unacceptable act, which carries immediate consequences and repercussions, up to and including the possible loss of the member state right to vote in the European Council under Article 7 of the Lisbon Treaty.
The Marche Regional Council, which today can manage the very large funds of the Recovery Plan and the Multiannual Financial Framework made available by the European Union, should reflect a lot on what happened with Poland.
I am sure that if there wasn't the European framework, Marche region would have sunk even lower into the whirlpool of homophobia and intolerance that contradistinguishes the right wing in our region. If they could, if they were free to do so without paying the consequences, probably President Acquaroli and Marche regional ministers, so steeped in this subculture called "no-gender", would have already promoted actions similar to those taken by the Polish regions and municipalities.
© We thank Marche Pride for the image header