​​​​This interview is part of our #LoveWhereILive campaign and of our series "#ProgressiveLocalStories", aimed at raising awareness on the many positive initiatives implemented by progressive cities and regions in Europe. Cities and regions have become laboratories for innovative solutions and, with this series, we want to discover how progressive mayors, councillors and presidents of regions put in place policies to promote and protect LGBTIQ rights.
Mayor Stadler, your city of St Pölten is a good example of how to promote and protect LGBTIQ rights. As a progressive local politician, what do you think about the protection of LGBTIQ rights in your city and in Europe?
St. Pölten is a city where all citizens should and can feel comfortable, regardless of their gender, origin or sexual orientation. As a local politician in particular, I am close to the people, through discussions and personal experience, where there is potential for conflict or improvement. However, in recent times, marked by the coronavirus pandemic, which has revealed many grievances in today's society, it has become clear to me once again that St. Pölten is a city where we have traditionally stayed together. Active co-existence and the inclusion of all sections of the population can prevent discriminatory behaviour and promote peaceful coexistence. I am particularly pleased that this year's Pride Month was the first pride parade organised by the Socialist Youth of Lower Austria.
However, with regard to the current developments in Poland and Hungary, it is clear how much we still have to do. There is also room for improvement in Austria. According to a major Sora study on "Discrimination experiences in Austria" in 2020, 73% of respondents say that they have been victims of discrimination in work, housing, health or education in recent years. The fight to combat discrimination against LGBTIQ people and their rights therefore still needs to be waged, from not only in social terms but also in legal terms in all areas.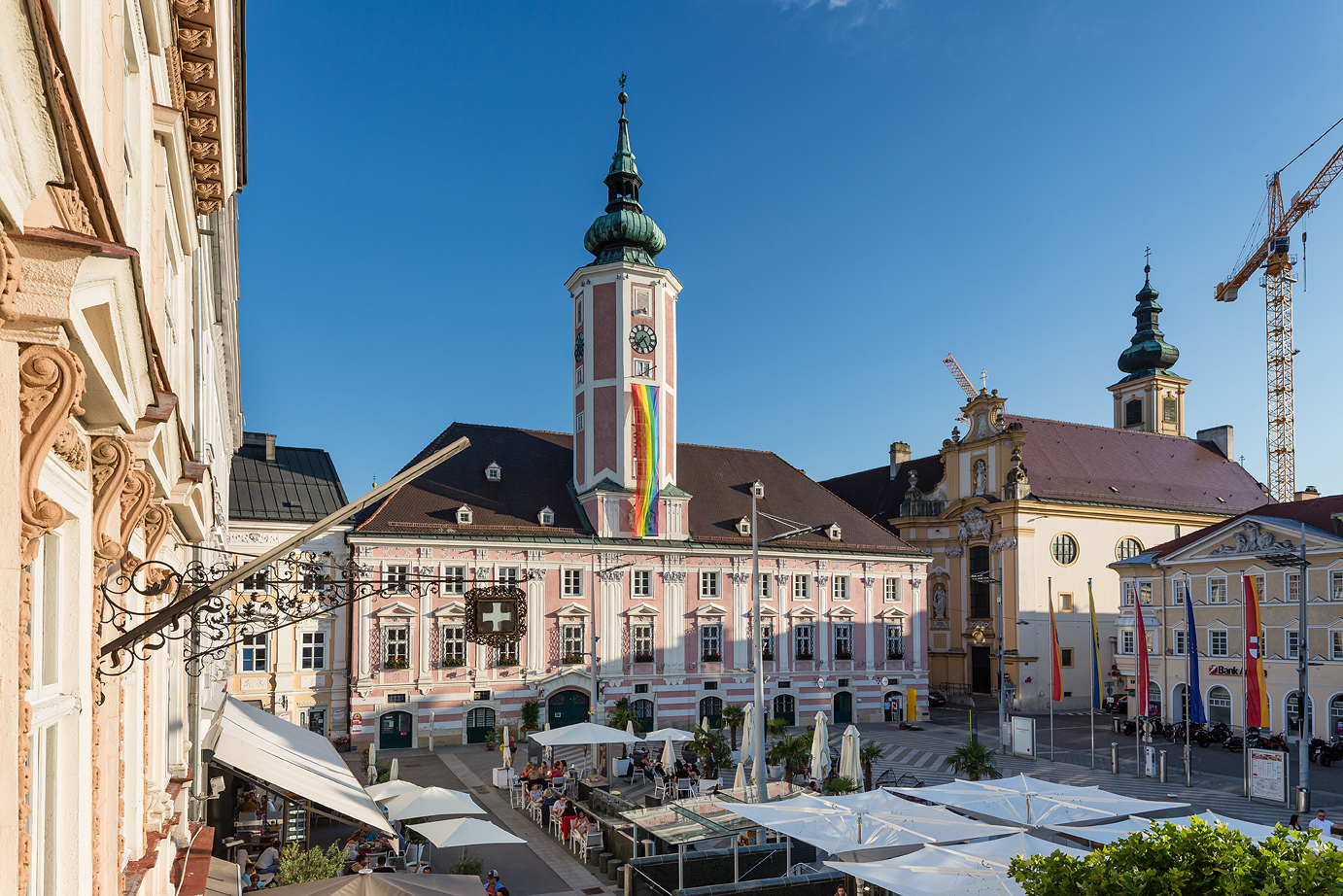 What practical measures have you taken (or are you planning to take) to make your city one where the rights of LGBTIQ people are fully respected and promoted?
With regard to the current developments in Poland and Hungary, it is not only symbols that are needed to support LGBTIQ people in our society and to reduce prejudices and stereotypes – action is needed, too.
With the municipal council decision of 28 June, at the initiative of the Party of European Socialists Group in the European Committee of the Regions, St. Pölten declared itself a freedom city for LGBTIQ people. This is a strong signal of tolerance and openness. Saint Pölten is thus committed, on the one hand, to public policies to promote and protect the rights of LGBTIQ people and, on the other, to explicitly sanction mechanisms of structural discrimination. Saint Pölten Municipal Council condemns the actions of the Polish and Hungarian governments against LGBTIQ rights, which clearly violate the Charter of Fundamental Rights of the European Union and the Universal Declaration of Human Rights, as well as any other form of discrimination.
Reducing discrimination and prejudice also means raising the visibility of LGBTIQ people. Since June 2019 - Pride Month that year - the rainbow flag flies prominently on the town hall's roof and tower. Now that the declaration on LGBTIQ freedom zone has been adopted by the municipal council, this arrangement will continue for years to come.
The Mayor's Office has also been strongly committed to diversity in this area for a number of years and is constantly implementing projects and providing support to various associations. Finally, the Office for Diversity was active in the revision of the Notification Act, submitting an opinion on increasing linguistic diversity. A linguistic rewrite has been suggested here in order to produce a text that is valid for anyone it refers to.
The Diversity Office communicates through various channels and media. For example, in the Podcast series "Time for Me" also featured a programme about growing up as an LGBTIQ person in a heteronormative society.
Last year, the European Commission proposed its first LGBTIQ strategy and the European Parliament recently declared the EU an LGBTIQ freedom zone. How can the European Union further contribute to promoting LGBTIQ equality and why is this important for your city?
LGBTIQ people continue to experience hostilities — violent attacks, verbal attacks or other abuses, and not only in Poland and Hungary. Equality must be (continuously) promoted by action at all levels in all European Member States. LGBTIQ people are more likely to face discrimination or disadvantage in almost all areas, including in politics, work, health and the economy.
To ensure that LGBTIQ people are fully protected and included, the European Commission must put in place appropriate framework conditions.
However, these discussions should not only take place in Parliament. It is primarily up to the parliamentarians to take the European Commission's strategy into their constituencies in order to insist on its implementation in regional and local politics.
***
Photo credits: 
Rainbow flag: Josef Vorlaufer
Rainbowflag city hall: Werner Jäger
SPÖ Group Pride Month: SPÖ St. Pölten