​​​​This interview is part of our #LoveWhereILive campaign and of our series "#ProgressiveLocalStories", aimed at raising awareness on the many positive initiatives implemented by progressive cities and regions in Europe. Cities and regions have become laboratories for innovative solutions and, with this series, we want to discover how progressive mayors, councillors and presidents of regions put in place policies to promote and protect LGBTIQ rights.
Your municipality of Roeser is a good model for the promotion and protection of LGBTIQ rights. As a progressive local politician, what do you think about the protection of LGBTIQ rights in your municipality and in Europe?
As we know, as local politicians we are in close contact with the public. In a community of just under 6 800 people we all know one another and I believe it is important to bring people together and try to create an environment of living together, of co-existence, rather than exclusion. This applies equally to gender equality, as well as to citizens from different backgrounds, different religious or philosophical outlooks, and clearly also to people who are part of the LGBTIQ group. Personally, I am happy to live in a country where sexual identity is now rarely a cause of discrimination. In any event, my personal orientation has never played a role in my private and political life, and so I firmly believe it is my duty to be a model for others and help to reduce discrimination and prejudice where they still exist. This applies to my municipality as well as to my home country and my commitment to Europe. The situation in Luxembourg has changed radically over the last 25 to 30 years. That is why I strongly believe that Europe and committed, progressive politicians can also take other countries and their citizens forward in gender equality and anti-discrimination policies. We owe it to our fellow human beings. Being lesbian, gay, transgender, intersex or queer must no longer be the cause of exclusion, bullying, psychological or physical violence, or murder or suicide in Europe in 2021.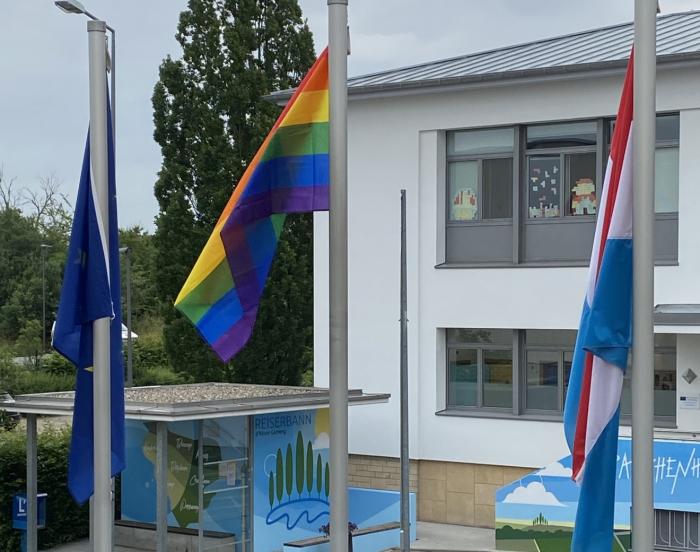 What specific measures have you taken to make your municipality one in which the rights of LGBTIQ people are fully respected and furthered?
In 2021, our municipal council has taken several initiatives aimed at strengthening coexistence in general. In early summer, for example, the municipality of Roeser, together with the Minister for Family Affairs and Integration and SYVICOL (the Association of Luxembourg Cities and Municipalities) signed a new "Pact of Coexistence".
The pact seeks to bolster the integration of all people at local level, to reduce prejudices, fears and discrimination and to strengthen the diversity of the community as a whole. This pact, which will culminate in a Communal Integration Plan, focuses on the integration of refugees and people of different nationalities into Luxembourg society. However, good and complete integration also means respecting people with different origins, socialisation, cultural, religious and ethnic differences, and bringing them to the values of our European and Luxembourg community where necessary. Our fundamental values undoubtedly include the prohibition of discrimination based on racial or ethnic origin, sex, religion or belief, disability, age or sexual identity. We have now instructed the various advisory commissions and committees to take stock of the situation in our municipality, which counts around 42% of non-Luxembourgers. This mapping exercise will involve civil society, including through existing sports and cultural associations, youth institutions or older people's organisations. So far, we are at the beginning of the process. The fact that our municipal council unanimously declared itself a municipal LGBTIQ freedom zone at the initiative of my socialist group has already led to the fact that individual clubs have approached the local government to ask what they could do themselves to support this municipal initiative as a sports club or youth organisation.
As Secretary General of the LSAP (Luxembourg Socialist Workers' Party), I have called on my fellow social democrats and members to support the initiative of the PES Group in the European Committee of the Regions and to bring forward the draft resolution on LGBTIQ freedom zones in their councils. As of today, along with Roeser, Luxembourg's capital and Esch/Alzette, its second largest municipality, 19 other municipalities have adopted the resolution, on the whole unanimously. Other municipalities run by liberals or Christian democrats have themselves put our draft resolution on the agenda of their municipalities, so that almost half of Luxembourg municipalities have now declared themselves as LGBTIQ freedom zones The outcome of this local social democratic initiative was that the Pirates have submitted an almost identical resolution to the Luxembourg parliament. This resolution was also adopted unanimously in parliament*, so that, in addition to the freedom zone declared by the European Parliament, the country was also declared as such by the national parliament.
* Four members of a right-wing populist party abstained from the vote and the resolution was adopted by 56/56 votes.
The European Commission proposed its first LGBTIQ strategy last year and the European Parliament recently declared the EU an LGBTIQ freedom zone. How can the European Union further contribute to promoting LGBTIQ equality and why is this important for your municipality?
The European Union has in the past been able to contribute to strengthening the fundamental rights of EU citizens in a wide range of areas, such as family and labour market policies. As a concrete example, I am very pleased about parental leave, which was introduced in most countries at the end of the 1990s on the initiative of the EU. However, I also think of paternity leave or the EU job guarantee for young workers. I am therefore fully convinced that the European Union can and must play an important role in gender equality, including in the area of minority rights for LGBTIQ people. This counts both internally and externally. Within the EU, on the one hand, this supports those Member States that are already further ahead in the field of gender equality than other countries and, above all, is a call to those Member States, mainly the eastern countries, to take action themselves and to reduce existing discrimination both in the laws and in the minds of some of the population. In the past, Spain or Portugal, and even Luxembourg, were often referred to as conservative countries, heavily influenced by the Catholic church, that were more sceptical and sometimes lagging behind on women's rights and even more so on LGBTIQ rights. Today these are the very countries that are at the forefront of progressive legislation in favour of LGBTIQ people. The initiative of socialist Commissioner for Gender Equality Helena Dalli can therefore only contribute to advancing Europe and its Member States in this area. The same applies, however, to the outside world, both for the candidate countries and for all neighbouring and partner countries of the European Union. That is why I am fully on the side of those politicians who say that LGBTIQ rights are human rights, and so, just like the Charter of Human Rights, are non-negotiable. Unfortunately, this is not yet the case everywhere in the world, on our own continent and even within the EU. This is why we also need the European Commission's LGBTIQ strategy to be implemented
***
Photo credits: Tom Jungen