This interview is part of our series "#ProgressiveLocalStories", aiming at raising awareness on the many positive initiatives implemented by progressive cities and regions in Europe. Cities and regions have become laboratories for innovative solutions and, with this series, we want to discover how progressive mayors, councillors and presidents of regions put in place policies to promote and protect LGBTIQ rights.
Mayor Hidalgo, Las Palmas de Gran Canaria is an excellent example of how to promote and protect the rights of LGTBIQ people As a progressive leader, what do you think about LGTIBIQ rights in your region and in Europe?
Forty-two years ago, Las Palmas de Gran Canaria saw the first street demonstrations defending the rights of LGTBIQ people. This was the beginning of a struggle for equality and recognition of all neighbours in this city who faced discrimination and persecution just for their sexual orientation. There have been more than 40 years of steady progress to combat this irrational and anachronistic hatred. A struggle based on ideas, a struggle from which we have all gained. And the fruit of this collective effort is the open-minded city we enjoy today, a city that is becoming ever more egalitarian and cosmopolitan.
Clearly there is still some way to go. This is why we are actively collaborating with LGTBIQ communities on events, activities, workshops and commemorative days. We cannot afford the least slippage when it comes to equality. We must not lose ground with respect to our rights, because ultimately they are everybody's rights.
In Europe we currently have two very different situations in this matter. There are two conflicting perspectives: a number of countries continue to move with the times while others are alarmingly stuck, or have even seen serious curtailment of these rights. The emergence of this divide between countries moving at different speeds is not a good thing in the 21st century, when we should all be addressing issues such as gender identity, strengthening the right of gay parents to adopt, marriage equality, supporting asylum for LGTBIQ people, or recognition of non-binary gender. Fortunately, there is good news in the Canaries, where for instance the regional parliament recently approved a new law on promoting social equality, which provides, among other things, for gender self-determination and depathologisation of trans people, making the Canary Islands one of Spain's Autonomous Communities with the most progressive legislation. As mayor of this city I can tell you that Las Palmas is now spearheading this fight for equality, a fight we all feel proud of.
What specific measures have been taken to make Las Palmas a city in which the rights of LGTBIQ people are fully protected and promoted?
It is crucial to point out above all that local authorities do not have legislative powers, though they do have the ability to promote and stimulate measures and projects. The municipality has always been keen to take the lead on the issue of rights, so as to consolidate the equality and liberty of all communities.
During the recent International Day Against Homophobia, Biphobia and Transphobia, a very moving tribute was paid in the Santa Catalina park to victims of misgendering. The park is one of the city's main hubs, but it is important to remember that during the Franco dictatorship and the transition to democracy it became a place where dissident groups would gather, a sanctuary where people could meet and feel safe, as well as a place where the state control and police repression were particularly virulent. The commemorative plaque erected a few days ago here therefore highlights this historic and exhilarating social trajectory that has enabled us to become pioneers in securing the rights of the LGTBIQ community.
The city carnival, now in its 23rd year, has also become a prime example of this spirit of freedom that is a model for the whole continent, with events like the Drag Queen Gala. It has certainly become a subversive model of liberation that various other cities are already emulating and which of course makes us proud to be a cosmopolitan city that is open to everyone.
The Equality and Diversity department has developed various initiatives to protect the rights of LGTBIQ people: two campaigns to combat LGTBIQ phobia in public centres and spaces in the municipality; an awareness-raising campaign; publicising and raising the profile of LGTBIQ Pride; and an ambitious project in education establishments called "Diversity of Sexual Orientation and Identities", which is to be rolled out during the next academic year. We are conscious that great care is called for here so as to promote a way of living together that is as natural and harmonious as possible at a critical point in time.
We have also organised various workshops in city schools to promote the values of the LGTBIQ community, and we have worked in different public bodies through the T-Acompañamos [Together with you] project to boost training on diversity and protocols for supporting lesbian, bisexual and trans women.
Recent examples of measures include signing with the Gamá Group, an LGTBIQ association that advocates for sexual and gender diversity, the "Liga Arcoiris", a comprehensive agreement designed to promote sports centres as safe spaces without any form of discrimination based on identity or gender expression, so as to eradicate all manifestations of anti-LGTBIQ feeling. We are thus working to anticipate and identify possible harassment and discrimination in collaboration with the sporting community, converting municipal facilities into safe environments where there is no LGTBIQ phobia. This is our roadmap: to defend diversity and especially the identity of trans people in all sports facilities, recognising people's gender identity rights in every sports centre.
We have also held various meetings with traditional sports clubs and teams, for instance in Lateen sailing and Canarian wrestling, as a way of further promoting the consideration of LGTBIQ rights and equality in sport.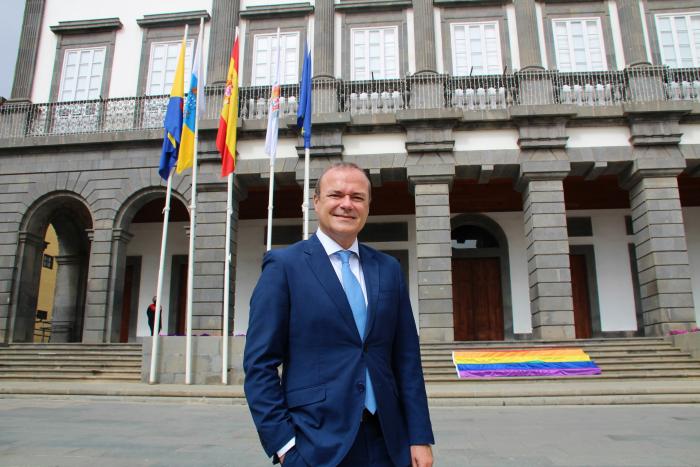 The European Commission has put forward its first LGBTIQ Equality Strategy and the European Parliament recently declared the EU an "LGBTIQ freedom zone". How can the European Union do even more to promote equality for LGBTIQ people and why is this important for your city?
Defending LGBTIQ rights goes hand in hand with individual rights and freedoms. Many European countries, including Spain, have passed laws to guarantee that these rights are recognised on a par with those of other citizens. The EU's principal role is to extend these rights to the whole of the Union so that no Member State can renege. I say this because in fact there are some countries that are moving backwards significantly on rights and freedoms, especially those of this community.
The achievements secured partly by the EU Member States in terms of protecting LGBTIQ rights and freedoms must therefore be extended by the European Parliament to the whole of the Union through legislative measures, which should be binding, so that no member of the Union violates those rights and freedoms and they are enshrined in European laws and directives.
Las Palmas, and Spain as a whole, lead the field when it comes to LGBTIQ rights and freedoms. This has been the case for years and continues to be the case. As I said before, the Canary Islands have passed a law on the rights of trans people that is among the most progressive in Europe. Our city benefits from this, but it is important for it to be Europe-wide and supported by the European institutions as a better enshrined, consolidated and inalienable right of the groups in question.
***
Photo credits: City of Las Palmas de Gran Canaria