This interview is part of our series "#ProgressiveLocalStories", aiming at raising awareness on the many positive initiatives implemented by progressive cities and regions in Europe in relation to the Sustainable Development Goals. Cities and regions have become laboratories for innovative solutions and, with this series, we want to discover how progressive mayors, councillors and presidents of regions put in place policies to tackle the climate crisis, eradicate social inequalities and build more sustainable communities.
Mr. Mayor, why is Vienna a progressive city?
Vienna has been voted the most liveable city in the world for 10 years in a row. We are recognized for many reasons, including public transportation, healthcare, as well as educational and cultural contributions.
We have gained leadership in Roland Berger's Smart City Study for the second time: Vienna is the smartest city in the world!
Regarding how we became the capital for digitization, it must be noted that the city of Vienna was the first to put the real 5G network into operation in the federal capital, thereby setting an important milestone in the expansion of the city's digital infrastructure. In times of digital change, we focus on the security of people and of their data in digital space, which is why we launched the "Vienna Cybersecurity and Privacy Research Centre".
The decisive factors to keep up with the job market are training and further education. With the digitization pact I initiated between the City of Vienna and our social partners, we support Viennese entrepreneurs, employees and apprentices to acquire the necessary expertise so that progress can benefit to everyone. The peaceful and respectful coexistence of all people in our city is always in the foreground for me as a mayor.
Our key to success? To focus all our strategies on people.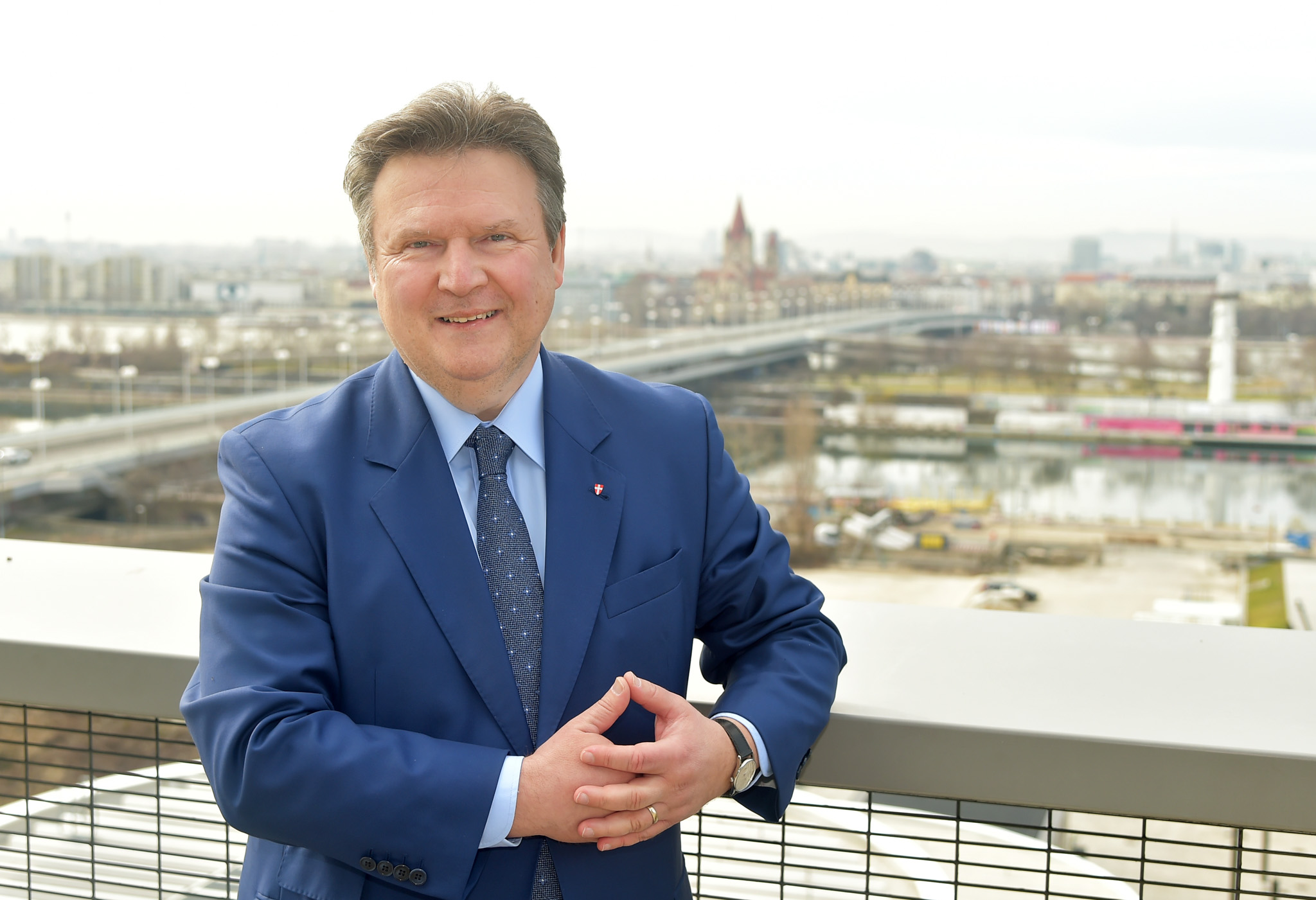 Photo credit: City of Vienna/PID, Christian Jobst
How is Vienna helping to implement the UN Sustainable Development Goals (SDGs) on the ground?
We have planned a climate budget of 940 million euros for 2020 in order to finance strategic and operational measures. We set off the climate protection turbo in Vienna with 50 concrete climate protection measures for our city of the future. To achieve the path to a CO2-neutral city, it is necessary to intensify the intelligent networking of the areas of electricity, heat, traffic and waste disposal and to use the energy sources of the future that are wind, water and the sun.
The best example of Vienna being a smart city is traffic: it is a well-known fact that one third of gas emissions are caused by traffic. We have invested in our public transports for decades now and are continuing with this strategy. We are not trying to get people to give up something. We simply offer them a better alternative accepted as such: there are more season ticket holders for public transport in Vienna than cars.
How has EU funding helped Vienna with these goals?
Thanks to funding from the European Union, we were able to implement various projects that would not have been possible without this funding. Since 2007 alone, around 200 EU projects have been implemented, from labor market projects such as the RUSZ (repair and service center) where long-term job seekers learn to repair electrical appliances in a way that preserves resources, embellishes the belt and redesigns the Neulerchenfelder and Ottakringer Straße as well as other places in Vienna. With the EU project " Smarter Together - together g'scheiter", 7 million euros for EU funding for Vienna were obtained in order to implement innovative and future-oriented solutions. With the successful project implementation, we were able to show what EU funds with high benefits for climate goals and smart city solutions may become. This project in the EU research framework program Horizon 2020 aims to promote new approaches in the areas of building renovation, energy supply, mobility or digital infrastructure in order to further establish them.
Over the past 10 years, over 100 million euros have been made available to the Vienna Employment Promotion Fund (waff) for the development and implementation of various projects. In the current Structural Fund period 2014 to 2020 alone, 55 million ESF funds have been made available to Vienna in this way - so far almost 63,000 people in Vienna have been supported.
Michael Ludwig is since May 2018 the mayor and governor of Vienna. He belongs to the Social Democratic Party of Austria (SPÖ). Ludwig was a councilor of Vienna since 2007 and was second vice-mayor and deputy governor of Vienna from March 2009 to October 2010. He has been a member of the European Committee of the Regions since 2018.
**