This interview is part of our #LoveWhereILive campaign and of our series "#ProgressiveLocalStories", aimed at raising awareness on the many positive initiatives implemented by progressive cities and regions in Europe. Cities and regions have become laboratories for innovative solutions and, with this series, we want to discover how progressive mayors, councillors and presidents of regions put in place policies to promote and protect LGBTIQ rights.
Your city is an example of promoting and protecting LGBTIQ rights. As a progressive leader, what are your ideas about LGBTIQ rights in your territory and in Europe today?
Firstly, I welcome the historic European Parliament initiative to declare the EU an LGBTQI freedom zone. This was an important way for the Parliament to demonstrate, through this highly symbolic gesture, its opposition to the attacks by the Polish and Hungarian governments on LGBTQI rights. Brussels, the capital of Europe and headquarters of numerous international institutions, could not just sit on the sidelines during this show of solidarity. The Brussels government therefore wished to reaffirm its support for the LGBTQI community by formally declaring the Brussels-Capital Region an LGBTQI freedom zone.
While Belgium plays a leading role with regard to respect for the fundamental rights of LGBTQI people, as evidenced by the figures from the latest European Union Agency for Fundamental Rights survey, there is still a long way to go on the road to equality for LGBTQIA+ people.
The survey highlighted the fact that in Belgium, 66% of people surveyed said they refrain from holding hands to avoid being stared at, and 27% said they avoid certain public places for fear of being attacked. There is still room for improvement in the fight against discrimination. Of those surveyed, 18% had felt discriminated against in the workplace in the previous year. On the fight against violence and harassment, 42% of those surveyed reported being harassed in the previous year, and one in five intersex or trans people had been physically or sexually assaulted in the previous five years.
It is for this reason that the Brussels government has wanted to make the inclusion of LGBTQIA+ people a central topic during this parliamentary term. This strong political will was reflected in the adoption of the LGBTQIA+ inclusive Brussels regional plan, adopted last February. The Brussels-Capital Region has also been a member of the Rainbow Cities Network since 2016. These actions reflect our political will to continue to lead the way for the rights and freedoms of LGBTQIA+ people in Belgium and in Europe.
What practical measures have you taken (or are you planning to take) to make your city one where the rights of LGBTIQ people are fully respected and promoted? 
Supported by the non-government sector, which has been extensively involved in its development, the LGBTQIA+ inclusive Brussels plan proposes 35 concrete, cross-sectoral initiatives to ensure better inclusion of LGBTQIA+ people in Brussels.
The plan is completely cross-sectoral and addresses equal opportunities, housing, public services and local authorities, employment, prevention and security, urban and spatial planning, mobility, scientific research, Brussels' public image and international relations, sport, health and families.
In particular, the LGBTQIA+ inclusive Brussels plan provides for increased financial support from the non-government LGBTQI sector, which will allow these field experts to put in place a number of quality projects that meet the needs of LGBTQI people.
In terms of concrete projects resulting from the plan, allow me to share with you the future safe haven that will open its doors this summer. The Brussels-Capital Region had been lacking reception facilities for certain target groups such as LGBTQI young people aged between 18 and 25 who are without a fixed home and/or are in conflict with their family, most of whom face social hardships, don't have a social group to which they belong, and face rejection or the fear of rejection in their family environment. In order to promote the inclusion of LGBTQIA+ people, in particular LGBTQIA+ youth, it is therefore imperative to ensure their mental and physical health, and to intervene before they are exposed to the many issues related to homelessness.
Increasing the number of available reception facilities through dedicated infrastructure purchased by the regional government would make it possible to meet the identified needs in this area. The reception facilities will also be coupled with professional counselling to help empower young people and enable them to live their own lives. The safe haven will officially open in early 2023, but may already be partially opened this summer for emergencies.
The plan also addresses security issues. In 2020, the Brussels local police areas only recorded 34 official reports related to LGBTQIA+ discrimination. However the non-government sector, much like the survey carried out by the European Union Agency for Fundamental Rights, report that the reality is quite different. Therefore, there really is a dark figure of unreported violence and discrimination.
Victims mostly speak of a lack of trust in the police, or feelings of shame or fear. We are working on reception issues in police stations and on training officers within the region's six local police areas, as set out in the LGBTQIA+ inclusive Brussels plan.
To have a clearer image of these acts of discrimination against LGBTQIA+ people, we have also developed a pilot project to submit report forms to RainbowHouse. The results are very encouraging: victims feel more comfortable with a trusted confidant in a more suitable environment. Our aim is to raise awareness of and further develop this service.
We can also fight the phenomenon more effectively by fully assessing and analysing it. The plan also provides for the precise and regular monitoring of these complaints and reports in order to carry out effective prevention policies, and also to better train police and coordinate their interventions. Combating under-reporting and improving complaint monitoring are the flagship actions of this plan.
Awareness-raising is equally important. The #sharethecolor regional campaign is an important tool for promoting the rights of those who live in Brussels, including the rights to freedom of sexual orientation, identity, gender expression and sex characteristics. We created this concept in 2017, and it is dedicated to a different specific theme each campaign. The focus of the 2022 campaign is the inclusion of LGBTQIA+ people in Brussels neighbourhoods. We wanted to target a wider audience in the hearts of the different neighbourhoods where LGBTQIA+ people live and work, rather than limiting ourselves to the Brussels city centre, where LGBTQIA+ public spaces and social life are more prominently concentrated.
At the same time, we have been developing positive and visible actions in order to spread and strengthen the feeling that everyone is welcome in Brussels public spaces, regardless of their gender, sexual orientation and/or sex characteristics. It is important that the tourist, cultural and nightlife sectors be more inclusive. The plan also provides for an LGBTQIA+ welcome day, with a bonus LGBTIQ inclusion award.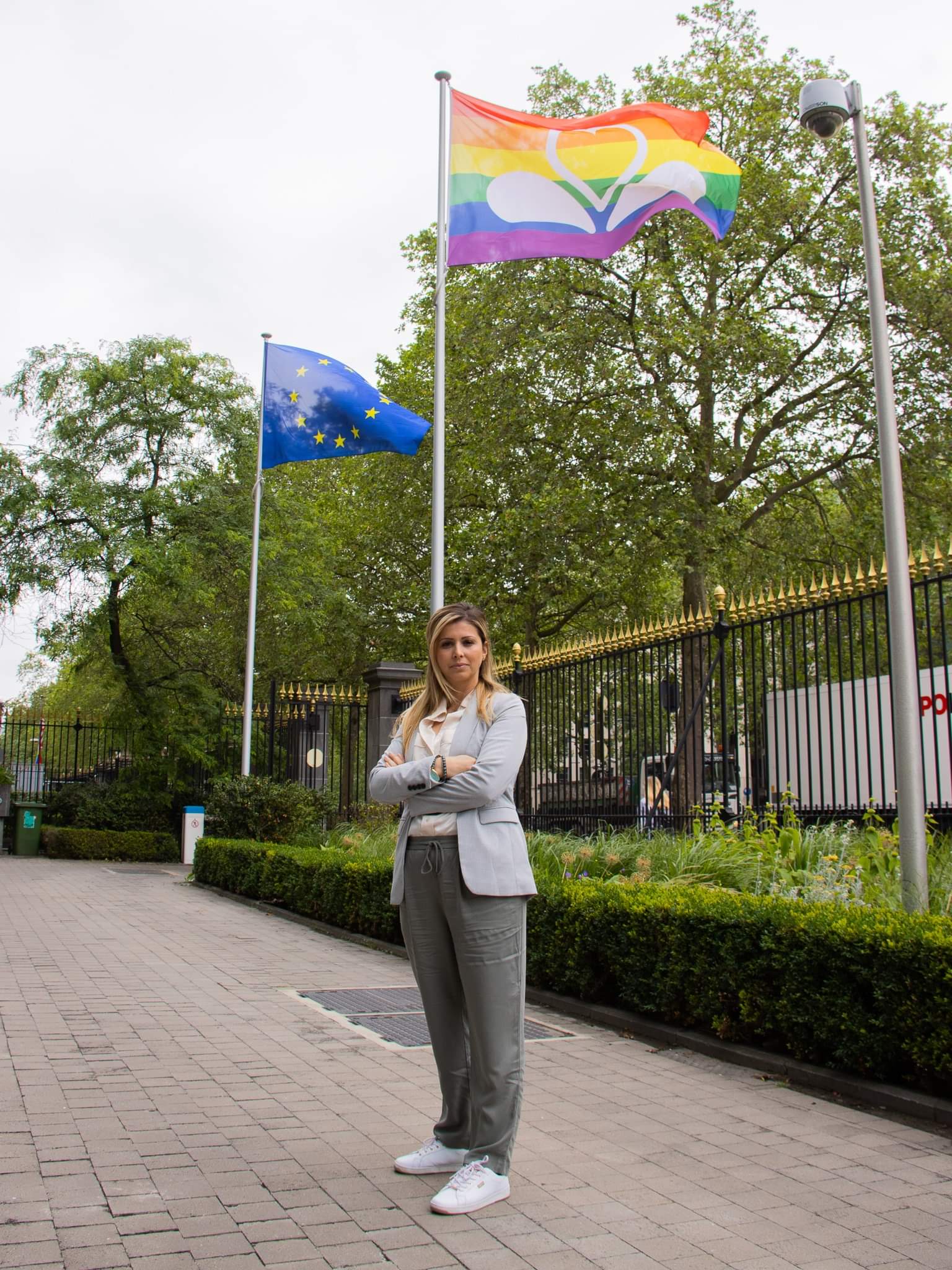 Last year, the European Commission proposed its first LGBTIQ strategy and the European Parliament declared the EU an LGBTIQ freedom zone. How can the European Union further contribute to promoting LGBTIQ equality and why is this important for your region?
We still see today, even within the EU itself, that no rights can ever be fully taken for granted. Some States still oppose some of our fundamental values, the Universal Declaration of Human Rights, and European legislation.
We must therefore, now more than ever, continue to take action to ensure that all citizens across Europe and beyond remain equal, both on paper and in practice, regardless of their gender, gender identity or sexual orientation. And in this fight, as everyone knows, unity creates strength! Europe, Brussels, and all other major European cities need to embody this strength, now more than ever.