"Girl With Balloon" (below) is one of the most well-known piece​s by England-based graffiti artist, political activist and film director Banksy, whose identity remains unknown. The 2002 East London mural depicts a black and white young girl losing to a gust of wind a heart-shaped balloon painted in bright red. "THERE IS ALWAYS HOPE" , etched into the staircase, accompanies the piece and seems to denote that catching back the balloon - that is, love, hope and happiness – is not an unattainable dream. ​
Can we say the same for the 26 million children currently at risk of poverty or social exclusion in the EU? Wh​at can be done to ensure that the red balloon of hope is not blown away once and for all by the relentless winds of political, economic, social and even environmental crises?​
Child povert​y: some disturbing facts​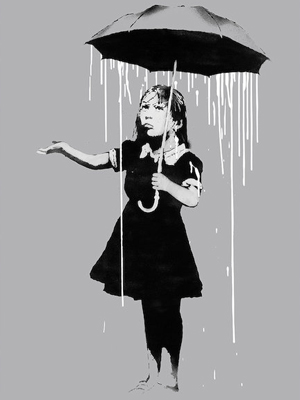 Child poverty is a deeply disruptive social phenomenon, with devastating effects upon children's health, well-being and overall development. It is this same disruption of the normal course of things that Banksy's "Umbrela Girl" (left) successfully conveys to viewers. This very poignant composition, which saw the light in New Orleans in 2008 and alludes to the disas​trous handling of the deadly hurricane Katrina, puts into question the essence of what is meant to protect us.​
UNICEF reminds us that, although today 1 billion less people live in extreme poverty than 20 years ago, children account for nearly half of the world's extreme poor, with 1 in 4 children living in poverty in the world's richest countries. At the same time, in almost every country in the world children are more likely to live in poverty than adults and only half of all countries in the world have child poverty data. ​
The statistics are​ revealing: ​
​Regarding single-person households with dependent children, 47.8 % were at risk of poverty or social exclusion, compared with only about 18.2 % of households with two adults and two dependent children.
Regarding labour participation, in the EU-28, around 78.2 % of the very low work intensity households (with adults having worked less than or equal to 20 % of their time in a year) with dependent children were at risk of poverty, compared to 62.2 % of the low work intensity households with dependent children.
As regards parents' education level, over 50% of the children whose parents did not attain upper secondary education were at risk of poverty because this risk rises as the level of education diminishes. At Member State level, the difference between the AROPE rates for children with parents with low and high levels of education ranged from 17.9–26.6 pp in Denmark, Finland and the United Kingdom to 66.1–84.9 pp in Croatia, Romania and Slovakia.
With regard to the country of birth of the parents, at EU-28 level, children with a migrant background were in 2015 at a greater risk of poverty (14.8 pp higher) than children with native-born parents, with the highest AROPE rates being recorded in Italy (40.3 %), Greece (48.9 %) and Spain (50.0 %), while the lowest rates were observed in Latvia (17.7 %) and Estonia (18.0 %).
Last but not least, 17.0 % of children living with single parents in the EU-28 experienced severe material deprivation, compared with 9.0 % of households with dependent children. Material deprivation is the enforced inability to cover at least three of the following nine categories of expenses: unexpected expenses, afford a one-week annual holiday away from home, a meal involving meat, chicken or fish every second day, the adequate heating of a dwelling, durable goods like a washing machine, colour television, telephone or car, being confronted with payment arrears (mortgage or rent, utility bills, hire purchase instalments or other loan payments). Severe material deprivation is the inability to afford four of the categories mentioned above. Needless to say that material deprivation has a very significant impact upon children's well-being.
Child poverty puts children at a high risk of social exclusion, stigmatisation and life-long poverty, with devastating effects upon the individual, but also important costs for the society as a whole. This is why decisive measures to combat it are urgently needed.
Progressive answers to child poverty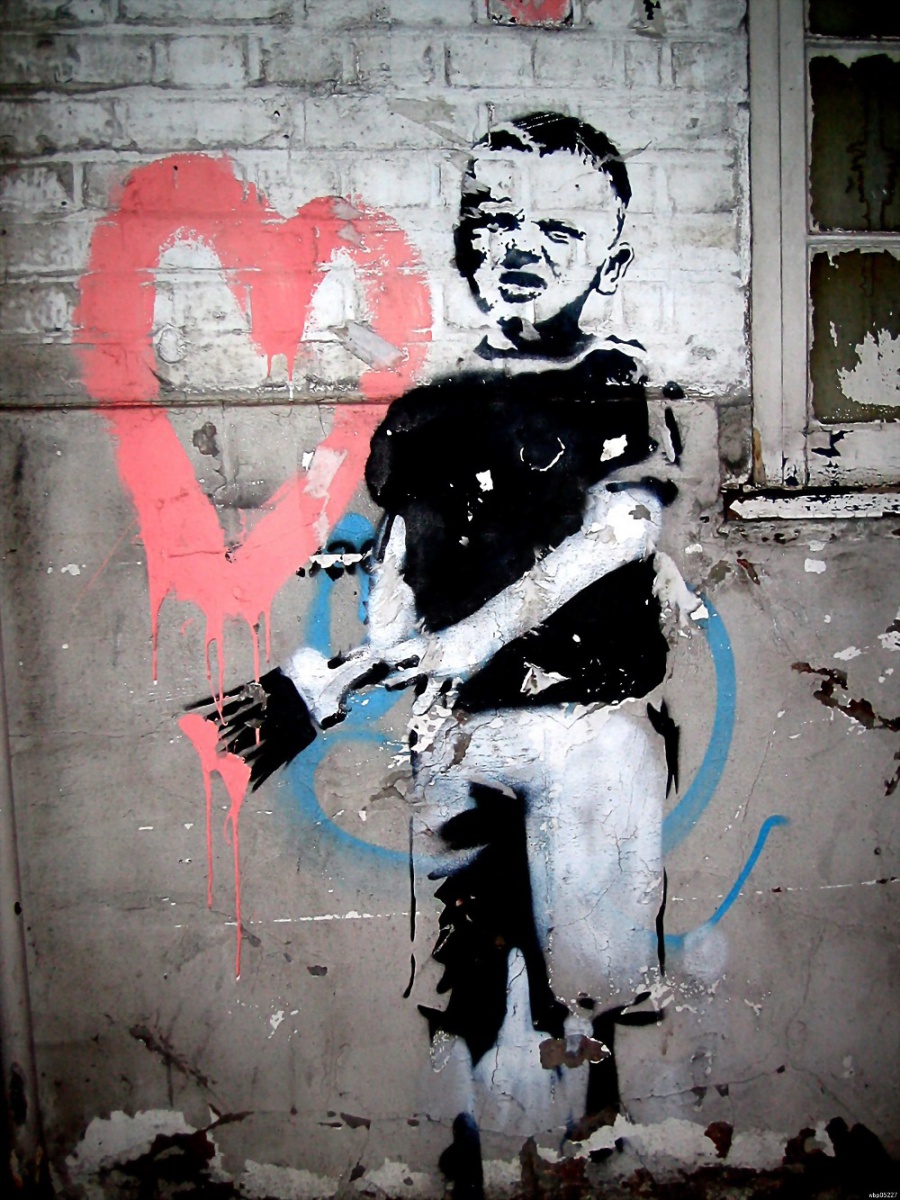 Banksy's "Heart Boy" (left) was originally painted in 2009 on the side of a building in Islington, London. The demolition of the building in 2009 led to the conservation of the mural, which has become the latest addition to Amsterdam's Moco Muse​um. The symbolism of the mural is unclear, but this is no doubt a bold, dynamic and optimistic image, just as our answers to child poverty should be.
Some efforts have been made at EU level to combat child poverty but the main responsibility lies with Member States, which should provide, inter alia, adequate services (such as accessible, affordable and quality childcare services) in order to support parents to participate in the labour market. However, the crisis has seriously curtailed Member States' ability to make social investments, with devastating consequences upon poverty. ​
Moreover, the EU 2020 target of lifting 20 million people out of poverty and social exclusion, which does not have a child-focused sub-target, and the choice of a soft legal instrument (recommendation) by the European Commission for its 2013 initiative on Child Poverty, as part of a wider Social Investment Package, have not yielded any spectacular results.
The recently proclaimed European Pillar of Social Rights does include a specific part on childcare and support to children, acknowledging children's right to affordable early childhood education and care of good quality. It also recognises children's right to protection from poverty and points to the need for specific measures to enhance the chances of children from disadvantaged backgrounds. It now remains to be seen how the Pillar will be implemented and a specific Action Plan should swiftly be put into place.​​
There is no doubt that poor access to facilities and services exacerbates child poverty. This is why we consider it essential that Member States finally deliver on their commitment to respect the 2002 Barcelona targets for childcare, that is, the 33% target for children aged from 0 to 3 years and the 90 % target for children aged from 3 to the school age. These targets should have been met by 2010 but the EU average is 3 percentage points below the 1st target and 7 percentage points below the second. ​
Likewise, it is worth underlining the European Parliament recommendations, led by the S&D Group, for subsidised or free meals for children, especially for disadvantaged and poor children, and for a child guarantee so that every child in poverty can have access to free healthcare, free education, free childcare, decent housing and adequate nutrition, as part of a European integrated plan to combat child poverty.​
However, lack of income is the most important factor that puts families, and therefore children, at risk of poverty. The wide divergences amongst Member States in terms of minimum wages, income support and family benefits exacerbate the risks of poverty. Bearing in mind that in many Member States, existing minimum wages are currently below the subsistence minimum and are thus insufficient to prevent income poverty, a decent floor for wages in Europe should be set and reflect the national median wage, within the European Semester. These national wage floors should gradually reach, either by law or through collective bargaining, 60% of the national median income, in order to address the risk of in-work poverty. While such wage floors should apply to all workers and all types of work, it would be useful to establish a regional living wage calculation, reflecting actual living costs in each region. At the same time, reviewing wage moderation policies, which have weakened purchasing power and living standards, and granting wages increases in line with productivity growth can further help reduce in-work poverty.
Moreover, as women's poverty has a direct impact on children's poverty, lower participation of women in the labour market needs to be properly addressed through effective measures to reconcile work and family life. Boosting women's employment is key to addressing the gender pay gap (currently standing at an EU average of 16%) and gender pension gap (an alarming 40% on average in the EU). As women are traditionally the main family carers, they are forced to reduced earnings, higher concentration in part-time work and career gaps. This results in a higher risk of exposure to poverty and social exclusion for women, with negative impacts also extending to their children and families.
To boost women's participation in the labour market, it is crucial to increase the availability of early childhood education and care, out-of-school care and provision of long-term care services (including home-based services) for dependent persons.
To conclude, child poverty is a multi-faceted phenomenon that puts to the te​st the very essence of social Europe and requires a holistic approach. Only genuine upward convergence can effectively address on this scourge, and for this, we need more and better Europe. This might help us finally get the lifestyle we have ordered for us and our children! ​
all im​ages: ​© Banksy