International Women's Day is a celebration not only of women, but also of gender equality and the role that women have in our societies. In the last two years, we have seen mass demonstrations across Europe on this day, demonstrations demanding that equality happens now. There is no doubt that we are moving in the right direction since the European Union has been at the forefront of some legislative changes that have fostered gender equality, making it one of its founding values.
However, despite of all the progress achieved in the last years and all the proposals and initiatives for the future, there is still a long road ahead. Achieving gender equality is one of the 17 Sustainable Development Goals, but there is a substantial gap between the current role of women in society and their representation in politics at local, regional and national levels. According to recent studies, it will take us 107 years to achieve gender equality in local and regional politics, and that is time that we do not have.
Gender equality is a matter of democracy…
There is no way to sugar coat the fact that, to this day, the figures look bleak. Women represent over half of the population of the EU (51%). However, we can see in the infographic below that this is not reflected in women's participation in local and regional governments. As recently reported by the Council of European Municipalities and Regions (CEMR), in the last ten years, the number of female mayors in the U has only increased by 4% and, while the percentage of female mayors of European capitals is substantially higher than the average (25.9%), it is still not enough. Female local councillors make up just under one third of the total and only 18.4% of regional presidents are women. This is because fewer women stand for election and those who do so, are often confronted with mindsets favouring male political representation.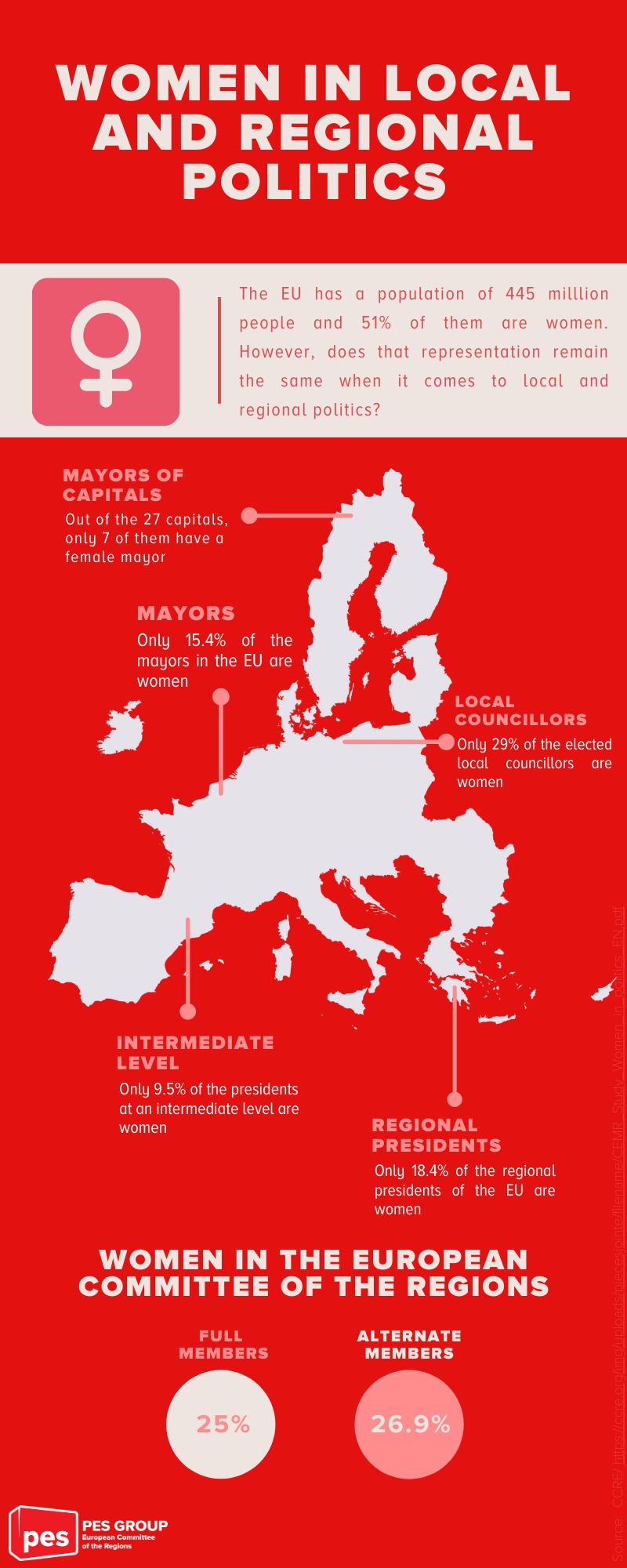 The composition of the new European Committee of the Regions is also worrying, since only one fourth of the members are women. The PES Group is the only political group to apply a Code of Conduct in order to to attain 50%-50% parity in its internal structures and its representation with the Committee but also beyond it: from leadership positions within the PES Group and in the Committee's thematic commissions, to rapporteurships and PES members' participation in external bodies or events. The application of our Code of Conduct, which is assessed annually, is bearing its fruit, drastically changing attitudes towards gender equality. At the same time, members of the European Committee of the Regions are designated by their respective Member States, and there is still a lot to be done in this respect.
… and gender equality makes economic sense
Member States would benefit from equality in different ways, according to studies from the European Institute for Gender Equality (EIGE) or the Council on Foreign Relations (CFR). EIGE suggests that achieving gender equality would translate into an average increase of 12% in the Member States' GDP. CFR dissects that average into country-specific data and shows that countries such as Italy and Greece would see their GDP increased by 14% whilst countries such as Finland, Sweden or Spain would see theirs increased by 8%. The reports also suggest that policies on gender equality have a larger impact on a country's GDP than those on education or the labour market. What is also evident is that those countries with lower levels of progress on gender equality are the ones that would experience a larger impact on their GDP if they made it a priority.
So, what can be done to finally achieve gender equality?
Both the EIGE and the European Commission's Gender Equality Strategy 2020-2025, adopted earlier this week, highlight the importance of gender mainstreaming in order to move forward. The Commission has made this one of its priorities in the 5-year plan that it has just released. Moreover, it has also indicated its willingness to support Member States in developing and implementing strategies to increase the number of women in decision-making positions.
While the PES Group strongly welcomes the new Strategy as a general framework for action, we are keenly awaiting its translation into concrete regulatory proposals to address areas of major concern, such as gender-based violence, gender stereotypes in education and beyond, as well as the gender pay and pension gaps. Moreover, we expect the Commission to propose specific measures to support an increase in the participation of women in the political sphere
A stronger Europe can only be an equal Europe.
To mark International Women's Day 2020, the PES Group decided to highlight the work of its female progressive local leaders:
This week for #InternationalWomensDay we bring you the #ProgressiveLocalStories of the many female leaders who are making our cities and regions more livable, sustainable and inclusive.

Here is @elenapiastra, Mayor of Settimo Torinese ➝https://t.co/JyTrVClZcB#8M #8Marzo pic.twitter.com/pgSBYHzxzY

— PES Group Committee of the Regions (@PES_CoR) March 2, 2020
Ahead of #InternationalWomensDay, we bring you the #ProgressiveLocalStories of the women who are fighting everyday to make our cities more sustainable and climate-neutral!

Here is Maria-Luise Mathiaschitz, Mayor of Klagenfurt ➝https://t.co/CZLLW3oNAY#8M pic.twitter.com/wBOxlaGM9E

— PES Group Committee of the Regions (@PES_CoR) March 3, 2020
When women lead, things are different

Ahead of #InternationalWomensDay, we bring you the #ProgressiveLocalStories of local female leaders!

Here is Birgit Honé @MBNiedersachsen, Minister of Lower Saxony ➝https://t.co/G7QFe0hF2t pic.twitter.com/2AKRPHO52d

— PES Group Committee of the Regions (@PES_CoR) March 5, 2020
Equality and sustainability are the two main pillars of the progressive government of #LaRioja

Ahead of #InternationalWomensDay, discover the #ProgressiveLocalStories of its president @ConchaAndreu

https://t.co/nuvWgojBdK pic.twitter.com/akCYXYoWTw

— PES Group Committee of the Regions (@PES_CoR) March 4, 2020
For the Regional Minister of Marche Region @manuelabora, #GenderEquality is one area in which Europe can do a lot

#InternationalWomensDay is tomorrow, read Manuela's and all of the #ProgressiveLocalStories of our female leaders ➡ https://t.co/AfIDlzP95V pic.twitter.com/4JRQdbpCsH

— PES Group Committee of the Regions (@PES_CoR) March 7, 2020
Our first Vice-President and Mayor of Ovanåker, @RenstromYoomi believes in preserving its beautiful landscapes and preparing the municipality for the future

Ahead of #InternationalWomensDay read more about this #ProgressiveLocalStories here https://t.co/Jj5BbY3jao pic.twitter.com/6yjP8R5yZd

— PES Group Committee of the Regions (@PES_CoR) March 6, 2020
***
Photo credit: Photo by Phil Hearing on Unsplash