Member of Bremen Senate Ulrike Hiller (PES, Germany) presented today to SEDEC members her draft opinion on the "Coordination of Social Security Systems", which was adopted by overwhelming majority.
The draft opinion responds to a European Commission proposal for a regulation, which updates the current EU rules on coordination of social security (covering the EU28, Iceland, Liechtenstein, Norway and Switzerland), in order to ensure that Europeans do not lose their social security protection when moving to another Member State. 
The draft opinion overall welcomes the revision of the rules on coordinating social security against the background of the increasing mobility of EU citizens within the EU. "The free movement of workers within the EU must be complemented by proper coordination of social security systems, governed by updated rules that address risks of abuse or fraud while ensuring a fair financial distribution of burden between Member States", said the rapporteur in her introductory speech.
The rapporteur stresses the importance of regional advisory and support networks for mobile EU citizens and calls for these networks to be strengthened. Concerning posted workers, Hiller insists on the need for a well-coordinated, binding and clear way the A1 attestation is granted (social security document stating the applicable legislation and proving that you pay social contributions in another EU country – if you are a posted worker or work in several countries at the same time). Concerning the coordination of long-term care benefits, she considers that it will be difficult to implement the ban on overlapping of sickness and long-term care benefits, but welcomes the fact that the regulation foresees that the protection of a sick person residing in a Member State has to be ensured, even if that person does not have legal right of residence.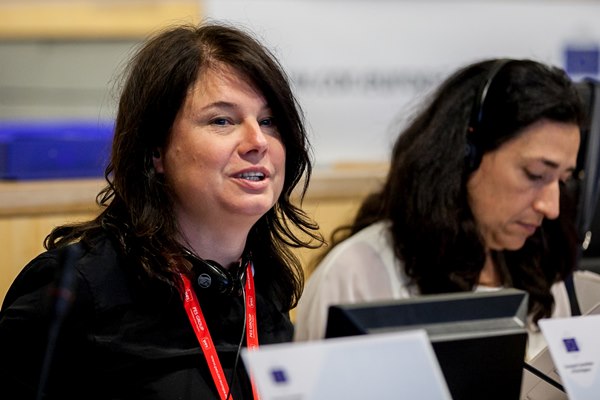 Ulrike Hiller (PE​S/Germany), rapporteur of the opinion on "Coordination of Social Security Systems"
Hiller welcomes the planned extension of the possibility to export unemployment benefits from 3 to 6 months, pointing, however, that it must be clarified how Member States could extend the export period beyond the 6 months. Likewise, she voices concerns about the special provision regarding employment periods shorter than twelve months. As for family benefits, the draft opinion stresses that all EU citizens have a right to family-social benefits in the country where they are registered, employed or subject to tax. Finally, the draft opinion regrets the lack of reliable data and information on the number of cross-border workers. "Border regions have extensive experience of mobile workers and such experience should be used by the Commission and the Member States", underlined the rapporteur. The adoption of the draft opinion is foreseen at the CoR plenary of 12-13 July.