In a joint effort to tackle one of Europe's most pressing social issues, the PES Group in the European Committee of the Regions and the Socialists and Democrats (S&D) in the European Parliament have joined forces. The common goal is to ensure access to decent, energy-efficient, social and affordable housing for all in Europe and reiterate our call for a comprehensive European strategy on housing. 
Our first stop in a series of events is Trento, an Italian province currently run by the far-right Lega party, and which has the highest rate of vacant houses in Italy with 47% of properties remaining empty and reaching alarming peaks of 80% in certain municipalities. Currently facing an escalation of the problem, housing is one of the most pressing social problems that the local community is confronted with.
Organised in cooperation with the young Social Democrats of Trentino (Giovani Democratici), who are working to combat the housing crisis on the ground, the event provided an excellent platform for progressive European leaders who have been pioneering forward-looking and inclusive solutions to the affordable housing crisis in their own cities and regions. 
Among the speakers, we welcomed three S&D MEPs, Alessandra Moretti and Elisabetta Gualmini from Italy and Estrella Durá  Ferrandis from Spain, two PES Group members, Alison Gilliland (Ireland) and Yonnec Polet (Belgium), as well as the Vice-Mayor of Bologna Emily Clancy (Italy) and Adelina Kunst, Member of Primorsko-Goranska County Council (Croatia).
"We are talking about a fundamental right of every citizen. Housing is a right of citizenship. You don't feel like a citizen participating in the democratic fabric of your community if you don't simply have a roof over your head. Having a roof over your head means being able to feel safe, being able to realise life plans, being able to start a family, in short, to live in a situation that is not stressful", stressed Elisabetta Gualmini, Vice-Chair of the S&D Group in the European Parliament, in her introductory remarks.
The gathering offered local politicians, including Trento's Mayor Franco Ianeselli, a unique opportunity to engage with progressive politicians and gain insights into successful housing solutions that can be implemented within their own communities. 
"Access to secure, affordable, long-term housing is at crisis point across Europe. It is impacting our social and economic prosperity as well as social cohesion. The European institutions must urgently act and support capital investment in public housing and reduce the widespread commodification of housing", underlined Alison Gilliland, Member of Dublin City Council and Chairperson of Dublin City Council's Strategic Policy Committee on Housing, in her statement.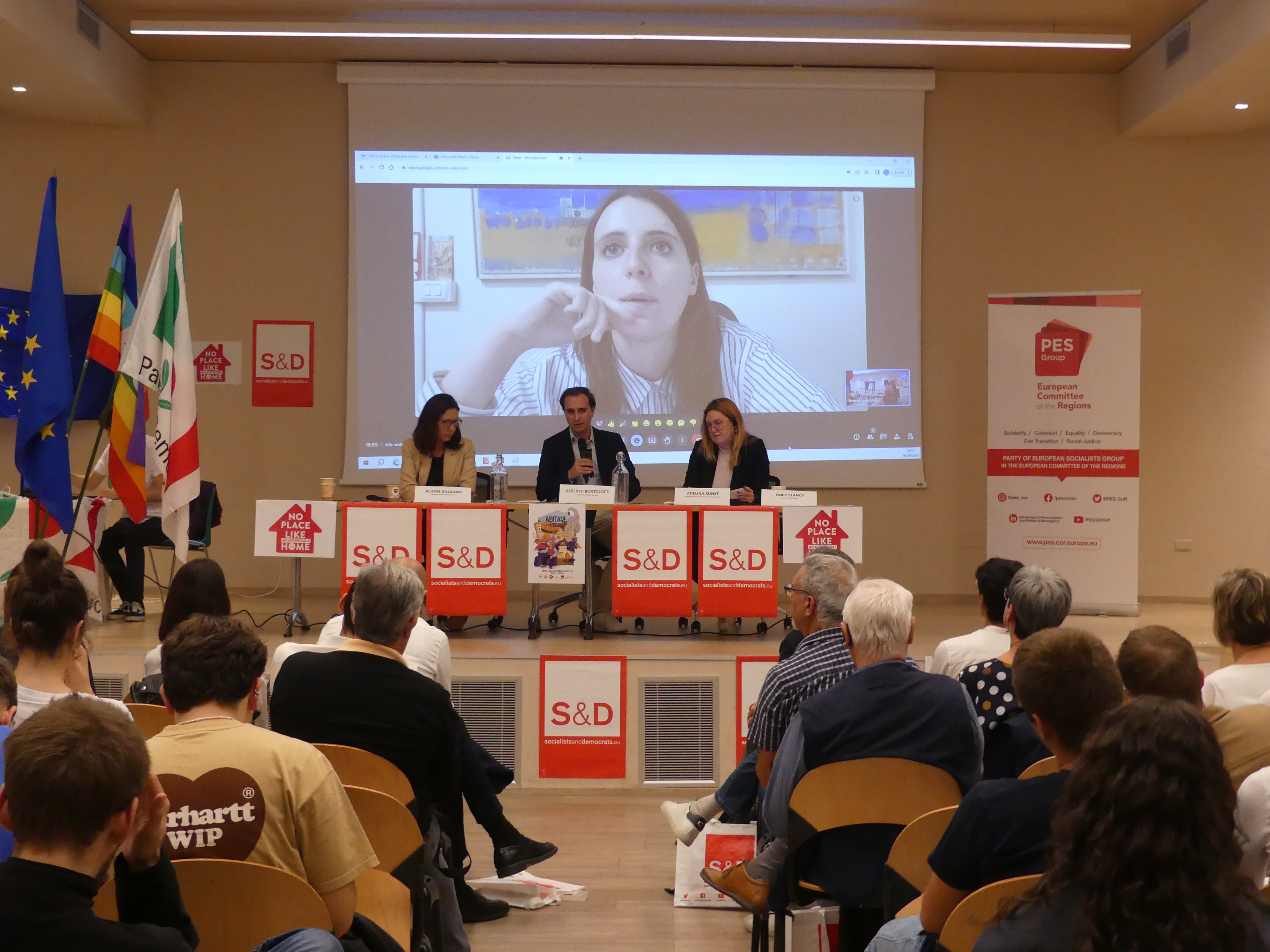 "Where there is a market failure, there is a need for public policy. The EU can and must play an important role for housing – an important role for Trento, an important role for Europe and an important role for the new mandate of the European Parliament", emphasised Yonnec Polet, Deputy Secretary General of the Party of European Socialists (PES) and First Deputy Mayor of Berchem Saint-Agathe.
By bringing together European leaders, local authorities, progressive activists and citizens, the Trento event marks a united front in the pursuit of a more fair and inclusive housing landscape across Europe.
Access to secure affordable #housing is a massive local, national & European problem. The next European mandate much deliver #HousingForAll 

Contributing #Dublin experiences with @TheProgressives & @PES_CoR colleagues including @ale_moretti @yonnecpolet @emsclancy in Trento 🇮🇹 pic.twitter.com/4G5O8CkTe0

— Cllr. Alison Gilliland (@AlisonGilliland) October 6, 2023