Regions and Cities are key in achieving the goals of the European Green Deal. As the recent IPCC report shows, cities are where so much comes together, as they are responsible for around 70% of greenhouse gases. If we think about mobility, housing, but also nature, there is a lot happening in and around our cities and their role is key. To reach climate neutrality, cities must make a great effort to step back from the business as usual and move towards a new green era. To do this in a just and sustainable way, leaving no one behind, they need the right tools and the EU support to achieve that goal.
The European Commission proposed to use a group of proactive cities as smart hubs to experiment this ambitious path towards climate neutrality by 2030, to then open the way to all EU cities for the 2050's goal. To achieve this, the Commission announced in April that 100 EU cities and 12 cities from countries associated with Horizon Europe will be part of this Cities Mission program. The applicants were 377 and the choice took into account different realities, from capital to small cities, from green frontrunners to newcomers in the sustainability pledge.
 "Cities are at the forefront of the fight against the climate crisis. Whether it's greening urban spaces, tackling air pollution, reducing energy consumption in buildings, or advancing clean mobility solutions: cities are often the hub of the changes Europe needs to succeed in our transition to climate neutrality.", stressed Executive Vice-President Frans Timmermans for the European Green Deal.
The program
The winning cities will receive multifaceted support to be able to reach the objective without affecting their sustainable growth and social well-being, starting from this year. In particular, they will benefit of:
Advice and assistance

Funding opportunities

National coordination network

Experience sharing

Citizens involvement in decision-making

Visibility 
The expected outcome are Climate City Contracts, clear and transparent political commitments to this plan. 
Due to the large number of cities that showed interest, the Commission decided to propose supporting tools also to those that were not selected, through the Mission Platform and funding opportunities.
The progressive cities involved
We want to congratulate the 38 progressive cities around Europe that have been selected for this pilot project.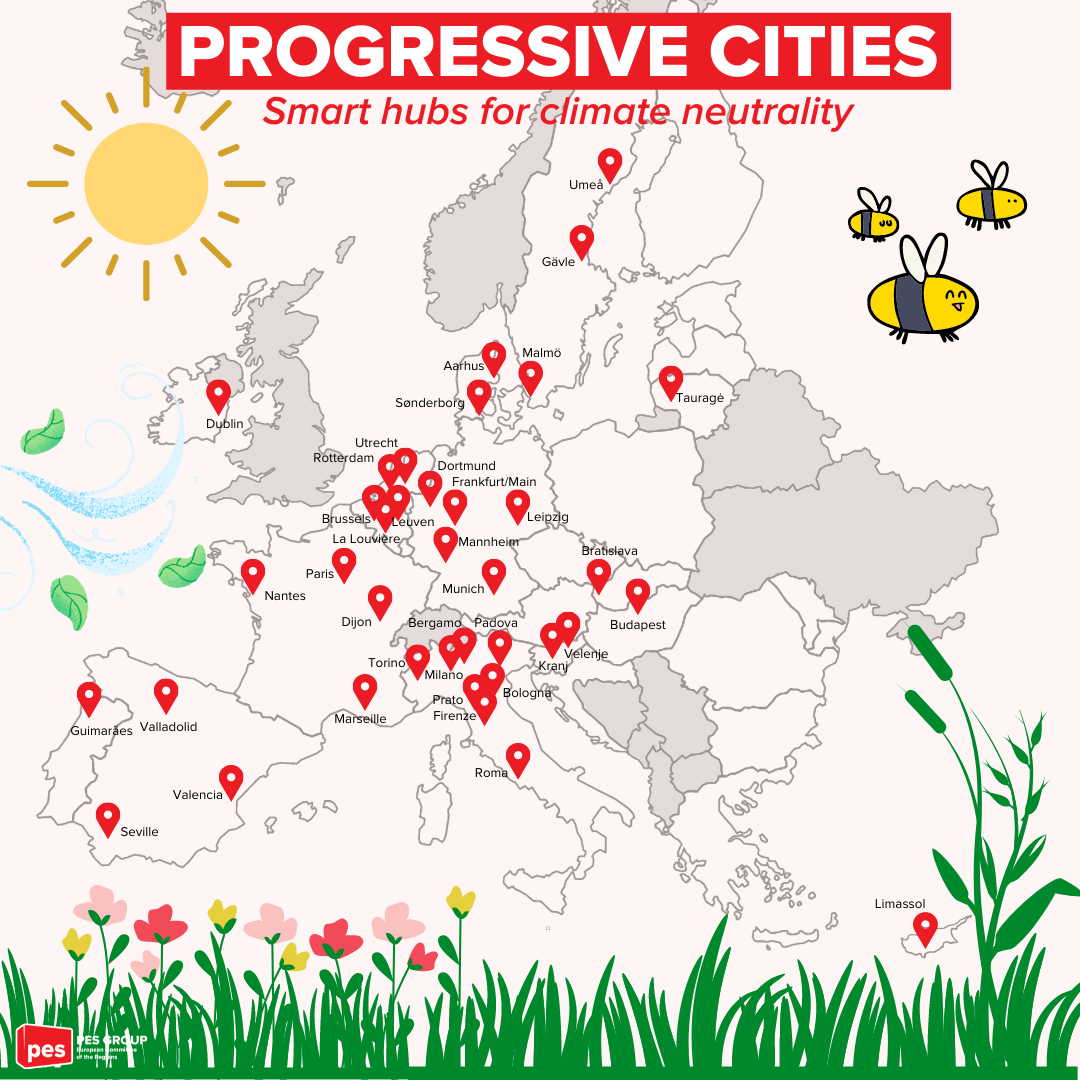 Follow our progressive cities' commitment via our #ProgressiveLocalStories. 
Roma è tra le 100 città scelte dalla Commissione Europea per partecipare alla Missione del programma "Horizon Europe" con il bando "100 Climate-Neutral and Smart Cities by 2030".

Con #PNRR e #HorizonEU, #Roma sarà protagonista di una grande rivoluzione green!#MissionCities https://t.co/bAjj9oJidD

— Roberto Gualtieri (@gualtierieurope) April 28, 2022
We are delighted that Dublin city has been selected to join the European Commission Mission for 100 Climate Neutral & Smart Cities. It's an honour to be chosen. Congrats to Cork City on also being successful. 👏 https://t.co/etOUOjPZaF #HorizonEU #EUGreenDeal #MissionCities pic.twitter.com/PbA70BW4oC

— Dublin City Council (@DubCityCouncil) April 28, 2022
Excellent news: #Valencia is among the 100 EU cities now selected to participate in #MissionCities & achieve #climateneutrality.
Count on the @UPV to make it happens.
Congrats, @AjuntamentVLC!!#UPVLivingLab #UPVCarbonNeutral pic.twitter.com/yCTTYgbkky

— Débora Domingo Calabuig (@ddc_72) April 28, 2022
 
The full list of the selected cities and the project are available here.
***