This article by Mohamed Ridouani, mayor of  Leuven (Belgium), has originally been published in the Progressive Post magazine of the Foundation for European Progressive Studies (FEPS).   
In 2020, Leuven was honoured with the title of Europe's 'Innovation Capital' by the European Commission. This recognition was awarded for Leuven's creative and organised ways of involving residents in making decisions for the city. One notable example of this is the city's ambitious efforts to reduce greenhouse gas emissions and become climate-neutral by 2030, known as 'Leuven 2030'.
As the Mayor of Leuven, I am committed to steering our city towards a sustainable, inclusive, and forward-looking future. In the past few years, we have been working hard to change Leuven for the better. We've been joining forces with local partners and European collaborators to tackle important issues like climate change, poverty, mobility and public health. 
The Leuven approach is built on a collaboration between what we call the 'quadruple helix', which includes all layers of society: government, knowledge institutions, companies, and citizens. It is a radical participation approach with a new governance model that connects leadership around important goals and ensures equal involvement from all sectors of society.
One of our most significant realisations has been implementing a comprehensive climate action plan. We have set ambitious targets to reduce greenhouse gas emissions, increase renewable energy sources, and promote energy-efficient practices throughout the city. 
To make innovation inclusive, we created a horizontally structured organisation with a legal framework to make it happen. This organisation is called 'Leuven 2030'. What makes it special is that it is an innovative way of governing. It involves a wide-ranging collaboration among various sectors, with over 600 partners working together. For example, we have totally changed the mobility plan in the city, pushing out the cars from our city centre. It is now almost car-free. It was a heated debate, but because it was linked to 'Leuven 2030', there already was big buy-in. As a result of that, bicycle use has increased by 40 per cent in three years and we are at the forefront of leading cycling cities in Belgium.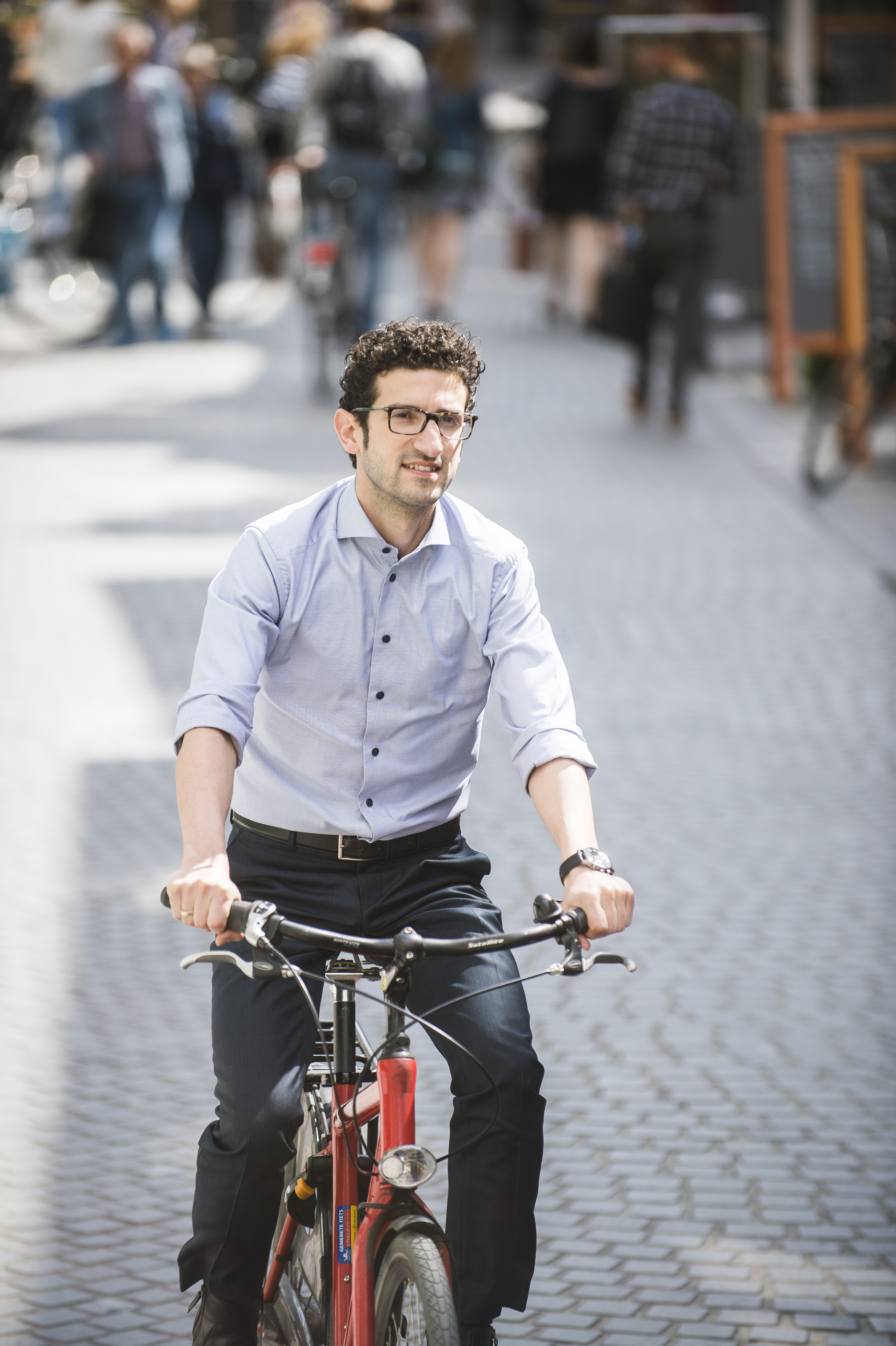 The picture shows mayor Ridouani biking in his home town Leuven.
Inclusive and social
An essential aspect to highlight is that within the organisation, we do not just include specialised NGOs focused on ecology. We also involve NGOs and grassroots groups dedicated to addressing poverty and those working at the neighbourhood level. The city allocates funds to insulate social housing, ensuring that the benefits extend beyond just the middle class and higher-income groups. It should be a social and just transition, as well. 
While we are working towards reducing polarisation and building bridges this also demonstrates that local governments can play a huge role in driving sustainability locally, especially when they collaborate closely with their communities, local businesses, and educational institutions.
Leuven also has a long-standing tradition of academic excellence, and we are harnessing this strength to drive innovation. We have established partnerships between our university and local businesses to create a thriving ecosystem for research and development. Our city's innovation hub has attracted start-ups and entrepreneurs,  which drove economic growth while addressing societal challenges.
At the same time, we actively engage in networks of European cities to exchange best practices and advocate for common policies. European cooperation allows us to amplify our efforts and address global challenges collectively. Selected as one of the 100 climate neutral and smart cities by the European Commission, we see ourselves as Europe's 'future lab', where solutions are developed first. We want to do it in an inclusive way. We want solutions that work for all and foster a more inclusive society, embracing people from all backgrounds and walks of life. That's a baseline, a motto, and the way we operate.
Collaboration is human
Collaboration is a deeply human trait. Throughout history, we have faced natural disasters and encountered formidable creatures stronger and larger than ourselves. However, it was our collective ability to cooperate, rather than fight one another, that allowed us to thrive. To overcome the complex challenges of our time, we must reconnect with this fundamental aspect of our humanity. 
At the local level, I have witnessed remarkable outcomes when I bring together individuals from diverse backgrounds – diverse in age, gender, ethnicity, education and talent. It is within this diversity within the city where we live in, that we discover the strength of the connections between us. We learn from one another, and, as a result, we enrich ourselves and our community. At the heart of it all is our city's shared responsibility. It demands the contribution of each and every one of us. Our city is a cause we all care about, and it deserves our combined hard work and commitment.
However, challenges like climate change, migration and economic inequality do not stop at our city's borders. Solving them just within our city is not enough. By sharing our experiences and responsibilities with other European cities, we can shape a brighter future for all. Together, we can build a stronger Europe and set an inspiring example for the world through our collective achievements.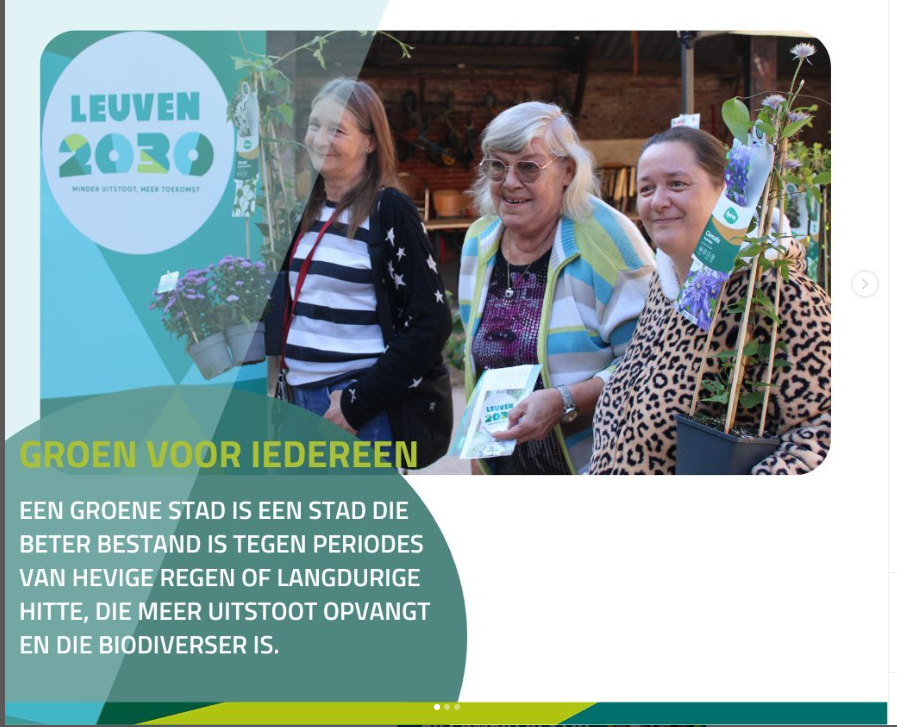 ***
© Photo credits: 
Header: Cristobal Diaz Martinez / unsplash
Photo of mayor Ridouani: Karel Duerinckx
Topicla photos: Leuven 2030 instagram