This best practice is a contribution to our #ChildUnion campaign and part of our  "#ProgressiveLocalStories", aiming at raising awareness on the many positive initiatives implemented by progressive cities and regions in Europe. Cities and regions have become laboratories for innovative solutions and, with this series, we want to discover how progressive mayors, councillors and presidents of regions put in place policies to promote child-friendly cities and regions. 
Gostyń child policies – The Child Union going local
Working in the interests of future generations is a noble idea and one we have had in Gostyń for a long time. It could even be said that we already have a local Child Union.
Here are some examples.
For nearly 20 years now, we have had a Youth Town Council. Young people not only learn about the activities of the local government and advise it, but also come up with their own ideas, which they can also implement.
One of the ideas of the Youth Town Council currently is the "Parasolka zaufania" ("The Umbrella of Trust") project, whose aim is to combat violence. Young people work together with bodies such as the Psychological and Pedagogical Counselling Centre. Working with kindergarten children they have made an educational film entitled "Mamy MOC na przeMOC" ("We have the Power to deal with Aggression"). As the title suggest, it contains tips on how to deal with aggression.
Children and young people also help those who need support. Every year they take part in the "Zostań Mikołajem!" ("Become Santa!") initiative, which is organised by the District Family Assistance Centre. It consists in preparing gifts for Christmas. Gift parcels are given to children and adults from underprivileged families.
During the pandemic, young people have been putting a lot of their own ideas into practice. The projects are aimed at younger children. Before Christmas 2020 they visited local kindergartens dressed as Santa and characters from fairy tales. They also organised an online Christmas-themed song contest for the little ones. Everyone hopes that the 2021 carol festival can be held "live" rather than online.
Members of the Youth Town Council are assured of continued support from local authorities. (Soon the activities of youth councils are to be regulated in detail by a law in Poland.)
The pandemic led Gostyń Public Library to change how it operated. Helping to maintain contact with readers, including the youngest, is the "bookmobile", which was launched last year. This mobile library turned out to be the ideal solution at a time of combating coronavirus. It provides access to newspapers, books and audiovisual services for people in all the villages in our community, including children, for whom it has a special offer. Thanks to the bookmobile, the library is also accessed by those who do not normally use a traditional library and do not buy books or newspapers and magazines themselves.
The "Virtual Library" website has a "Library Television" internet channel. It has  programmes for the youngest children – a series of stories illustrated with drawings entitled "Kamishibai na rowerze" ("Kamishibai on a bike"), and a series entitled "Pracownia Origami" ("Origami workshop") – learning the Japanese art of creative paper folding. For slightly older children there are the series "Klub Książki" ("Book Club") and "Gostyński ex-Libris" ("Gostyń Ex-libris"). These programmes stimulate a passion for reading and are also intended to encourage readers to exchange views and opinions on the books they have read.
In recent years the local government has been systematically renovating playgrounds, which also boast safe equipment. Even before the pandemic an outdoor meeting called "Piknik na Wałach" was held for children and young people, with parents also invited. This inclusive event was intended to be cyclical, but plans were derailed by the pandemic.
Even so, the coronavirus did not stop playgrounds being equipped with new features. A pumptrack was built on the city's biggest playground. This was an initiative from young cyclists that at the same time has a positive effect on road safety, since cyclists no longer look for excitement on pavements and streets.
Needless to say, the local government spends a lot of money on educational remits. Primary School No. 1 is the oldest school in the city, but it is now also the most modern one, having been modernised and expanded in recent years. The newly erected building won the title of the Best Non-Residential Building in the "Facade of the Year" competition (2018). It is as beautiful as it is functional and caters fully to the needs of students with disabilities. Easy use of the facility is ensured by ramps, lifts and special sanitation facilities. We received support for this investment from EU funds.
Integrated education is provided by properly trained pedagogical staff and children can receive psychological assistance. If necessary, they can also spend time in the common room before classes or while waiting for their parents to arrive.
Classes are currently being held remotely. If a child does not have a computer at home, one can be borrowed from the school. If parents are unable to provide care for their child due to work obligations (e.g. doctors, nurses, paramedics), they can entrust the child to the school. The child then attends classes in a designated room, where they can use the school computer. They can, of course, also use their own equipment.
Our district opened pre-primary forms at this school in 2020.
New kindergarten branches were also set up elsewhere – in the building housing the music school. A nursery – an institution for the youngest children (from 3 months of age) – is also very popular among parents. Admission of children to our kindergartens and to the Municipal Nursery takes into account preferences for families at risk of social exclusion.
Long-term remote learning and lack of contact with peers increase the risk of depression – including amongst children. A special helpline has been set up offering psychological help and all residents of the municipality can call – both adults and children. Anonymity is guaranteed.
I find it self-evident that caring for children is one of the priority responsibilities of the local government and all public institutions. The examples of our activities given above prove that the future of the youngest among us matters to us. One day it will be children who will take our places. They will have to decide about many issues, including the most difficult ones. Let us teach them to be responsible for the lives of others, let us teach them not to give up on their dreams of a better tomorrow. Who our children will be depends on us. It depends on the opportunities we create for them. So let us also take care of the environment in which they will be able to develop and build their future.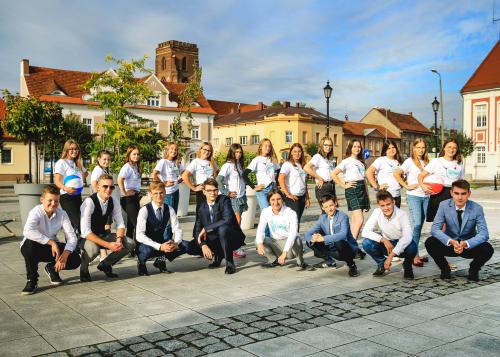 ***
Photo credits: City of Gostyn