Organic farming is an important element of sustainable EU farming. It contributes significantly to reducing the use of chemical fertilisers and pesticides and has a positive effects on our climate, the environment, biodiversity and animal welfare. Organic production is thus playing a key role in achieving the objectives of the European Green Deal. 
We are proud to announce that Vienna, led by progressive mayor and PES Group member Michael Ludwig, has at today's EU's organic awards ceremony been awarded as Europe's 2023 best organic city. In this interview, he tells us more about his recipe for success...
Vienna produces organic agricultural products for its inhabitants from its 44 000 hectares of forest and agricultural land in its far-reaching organic "farm to fork" concept. It is the only big European city that produces organic food and sells it itself in the retail sector. Can you tell us more about this initiative?
The City of Vienna has one of the biggest organic farming areas in Austria. Since 2022, we have been selling products directly to citizens. To do this, we launched the brand "Wiener Gusto", which allows us to deliver our goods to local supermarkets and retailers. Our goal is to provide the Viennese people with reasonably priced, high quality organic food. For the longest time, organic food was seen as a privilege, only being available to those with a higher income. Wiener Gusto allows us to change this narrative. Currently, the product range consists of flour, lentils, cooking oils, potatoes, sausages and meat, but will continue to be extended.
For the fourth time in five years, Vienna was ranked as the most pleasant city in the world to live in, according to an annual ranking published by "The Economist Intelligence Unit", the research and analysis unit affiliated with the British weekly "The Economist". How has your organic farming development policy improved the quality of life of Viennese people?
The mere fact that we are making organic products of high nutritional quality more accessible to the public, already has a positive impact on the quality of life of the Viennese people. Beyond that, organic farming helps secure the city's extensive green areas, the majority of which is being agriculturally used or influenced. Organic farming is crucial in securing biodiversity, and therefore our green areas – which are now more important than ever, as they help us battle the effects of climate change. Green spaces serve as safe havens during heat waves and they help keep our city cool by creating pleasant microclimatic conditions.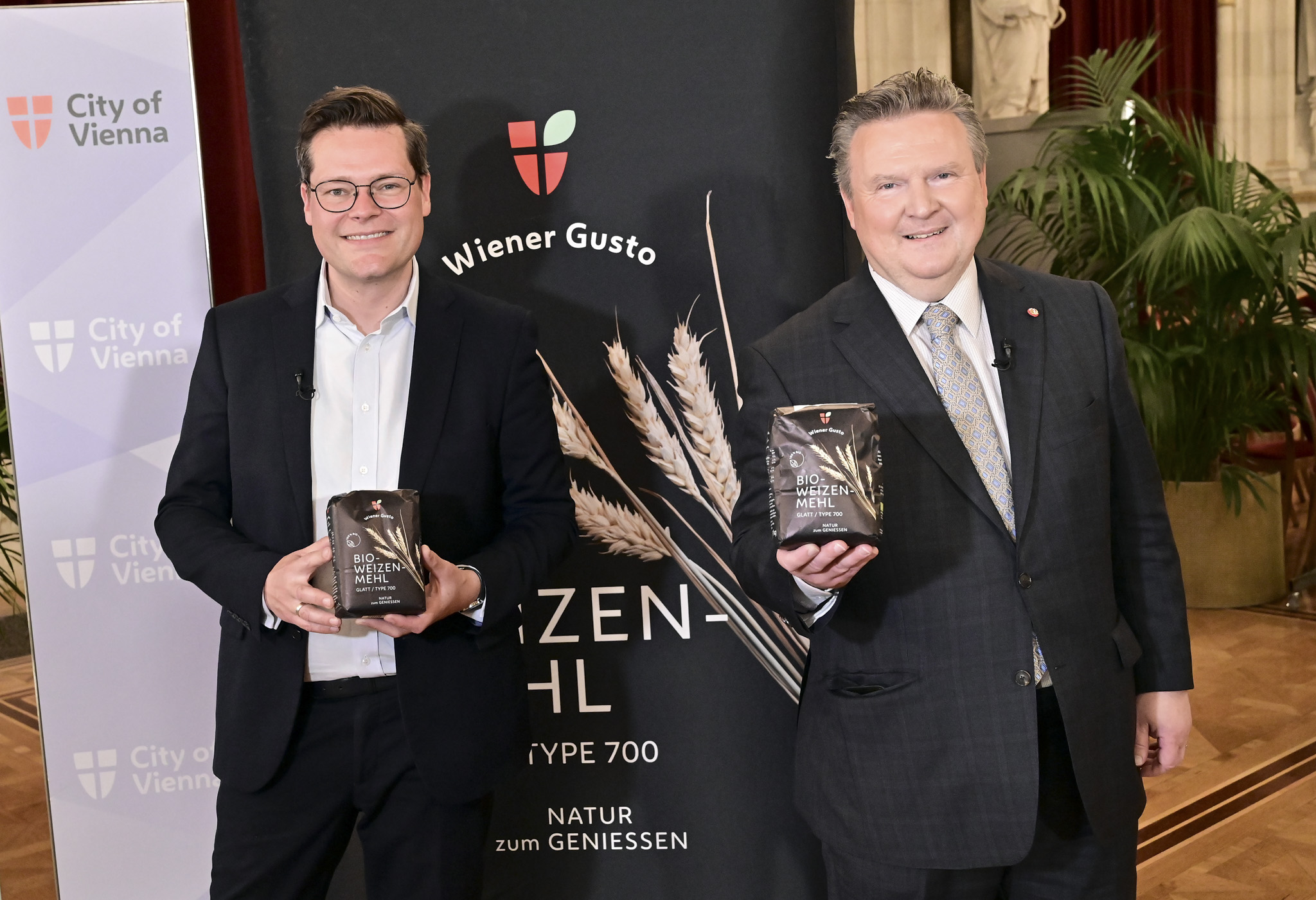 Mayor Michael Ludwig and Jürgen Czernohorszky, Executive City Councilor for Climate, Environment, Democracy and Human Resources, with the brand "Wiener Gusto". © Photo credits: Jobst 
Organic food has the reputation of being for the rich part of the urban population. How do you make sure that everyone can benefit from the city's initiative?
With Vienna being known for its strong commitment to achieving social equity in all parts of life, it is only natural that Wiener Gusto products are available for everyone, regardless of income. Since Wiener Gusto products are available in supermarkets at a reasonable price, we are actively contributing to the higher availability of organic food.
#EUOrganic Award ceremony starting soon! 🏆

Follow us online to find out the winners and their excellent products from all over the EU! 🇪🇺 pic.twitter.com/T552DZjnok

— EU Agriculture🌱 (@EUAgri) September 25, 2023
The EU Organic Awards are jointly organised by the European Commission, the European Committee of the Regions, the European Economic and Social Committee, COPA-COGECA and IFOAM Organics Europe, with the support of the European Parliament and the Council of the European Union. One region, one city and one bio-district were honoured with an EU Organic Award: Burgenland (Austria) as best organic region, Vienna (Austria) as best organic city, and Idanha-a-Nova(Portugal) as best organic bio-district.
***

© Photo credits: Joshua Lanzarini  / Unsplash