This interview is part of our series "#ProgressiveLocalStories", aiming at raising awareness on the many positive initiatives implemented by progressive cities and regions in Europe in relation to the Sustainable Development Goals. Cities and regions have become laboratories for innovative solutions and, with this series, we want to discover how progressive mayors, councillors and presidents of regions put in place policies to tackle the climate crisis, eradicate social inequalities and build more sustainable communities.
Miksi Tampere on edistyksellinen kaupunki?
Tampereen kaupunki vietti 240-vuotisjuhliaan syksyllä 2019. Olemme koko historiamme ajan säilyttäneet maineemme osaavana teollisena ja teknologiavetoisena kulttuuri- ja korkeakoulukaupunkina, joka on tunnettu taitotiedostaan. Tampereen tavoitteena on olla hiilineutraali vuoteen 2030 mennessä. Palveluja ja kaupunkien toimintoja on kehitettävä kestäväpohjaisemmalla tavalla. Ilmastonmuutokseen vaikuttavia päästöjä olisi vähennettävä 80 prosenttia vuoden 1990 tasosta, ja loput olisi kompensoitava. Yrityksillämme on maine alansa uranuurtajina, ja Tampereella vallitsee ilmapiiri, jolle on ominaista myönteinen suhtautuminen haasteisiin. Asukkaidemme suurin ikäryhmä ovat 24-vuotiaat. Yhtenä syynä tähän on innovatiivinen ja vetovoimainen Tampereen yliopisto. Alueellamme on kaiken kaikkiaan 50 000 opiskelijaa tähtäimessään ammattipätevyyden hankkiminen. Alueemme korkea- ja toisen asteen oppilaitokset luovat – yhdessä Tampereen innovoivien ihmisten kanssa – vahvan etenemishalun, t&k-toiminnan ja palvelujen ytimen sekä valmiudet olla parhaiden joukossa taitotiedon alalla.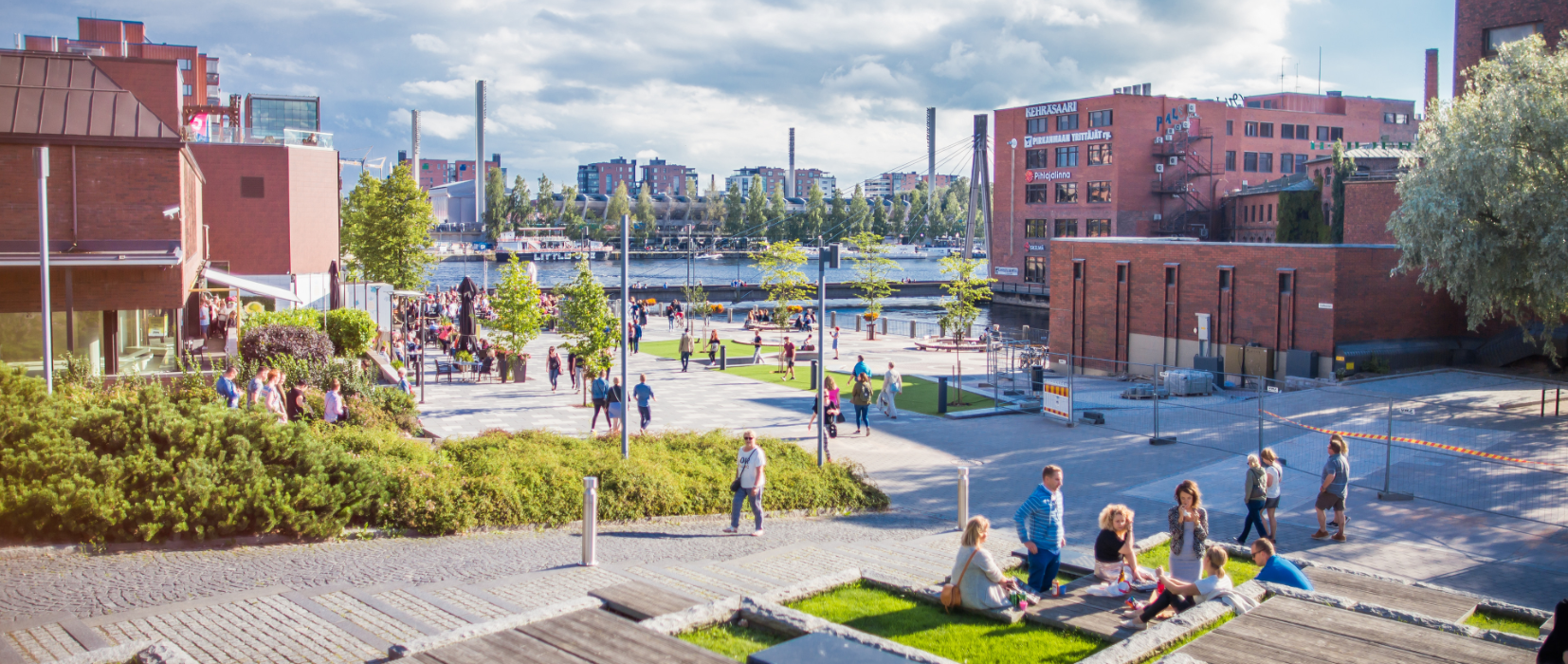 Photo credit: Laura Vanzo
Mitä toimintapolitiikkoja olette pormestarina ottanut käyttöön kestävän kehityksen tavoitteiden saavuttamiseksi?
Tampere on koko maan ensimmäinen kaupunki, joka on ryhtynyt soveltamaan ilmastobudjetointia kuluvana vuonna 2020. Sen avulla kaupunki tuo näkyviin ilmastotoimensa ja niihin osoitetut taloudelliset resurssit. Myös kasvihuonekaasupäästöt budjetoidaan (eli niihin sovelletaan vuotuista ylärajaa). Tampereen kaupunki on myös julkaissut kansalaisilleen ilmasto-oppaan osoitteessa. Ei kuitenkaan riitä, että tehdään vain muutamia asioita ja uskotaan, että työ on valmis. Maapallon lämpenemisen ja ilmastonmuutoksen mittasuhteisiin on suhtauduttava vakavasti. Osana toimiamme rakennamme parhaillaan kaupungin ensimmäistä ja Suomen uudenaikaisinta raitiotietä. Tavoitteenamme on lisätä julkisen liikenteen käyttöastetta sekä pyöräilyä ja kävelyä. Kestävyysperiaatteet otetaan huomioon myös rakennettaessa uusia asuinalueita. Kunnianhimoisena tavoitteenamme on esimerkiksi luoda uusi hiilinegatiivinen Hiedanrannan asuinalue. Tässä vaiheessa tutkimme ja pohdimme uusia keinoja tavoitteemme saavuttamiseksi. Tähänastiset tulokset vaikuttavat lupaavilta. Olemme myös saavuttaneet yhden virstanpylvään laatimalla Kestävä Tampere 2030 ‑tiekartan, joka viimeistellään ensi keväänä. Tiekartassa määritellään toimenpiteet hiilineutraaliuden saavuttamiseksi.
Miten Euroopan unioni on auttanut Tamperetta kehittymään kestäväksi kaupungiksi?
Älykästä kaupunkikehitystä Tampereen alueella tukevat maailmanluokan liiketoimintaekosysteemit ja alueella toimivat edelläkävijäyritykset. Ekosysteemejä ja yritysten uudistumista edistettiin vuonna 2019 muun muassa käynnistämällä teollisuuden Rapid Tampere -yhteistyökiihdyttämö, tukemalla kansallisen SmartTram-ekosysteemin muodostamista ja tekemällä perusteellisia tutkimuksia Tampereen alueen turvallisuudesta ja turvaamisesta sekä tekoälyalan toimijoista ja näiden ekosysteemipalveluja koskevista tarpeista. Lisäksi vuonna 2019 käynnistettiin merkittäviä hankkeita, kuten SURE-tapahtumaturvallisuushanke, johon on myönnetty kolmen miljoonan euron EU-rahoitus.
During #Tampere #SmartCity Week 2020 various perspectives on #city smartness were available: everyday #life, citizen participation, #technologies, industries, #business, etc. This article sums up some of the #highlights. #smarttamperehttps://t.co/XHpxOhlwKH

— Smart City Tampere (@SmartTampere) February 13, 2020
Euroopan investointipankki (EIP), joka tukee kestävää liikkumista edistäviä liikennehankkeita, myönsi vuonna 2017 Tampereen kaupungille 150 miljoonan euron lainan raitiotien ensimmäisen osuuden rakentamiseen. Tämä 15 km:n pituinen raitiotielinja, joka yhdistää keskustan ja itäiset kaupunginosat, on tarkoitus avata liikenteelle vuonna 2021.
Lauri Lyly on Tampereen pormestari vuodesta 2017. Hän kuuluu Suomen sosiaalidemokraattiseen puolueeseen (SDP).
**
Valokuvallinen kesäkuva Tampereella: Laura Vanzo

Photo credit header photo: City of Tampere